I've selected channel mapping in the devise setup but it still downmixes to 2.0 here are the screen shots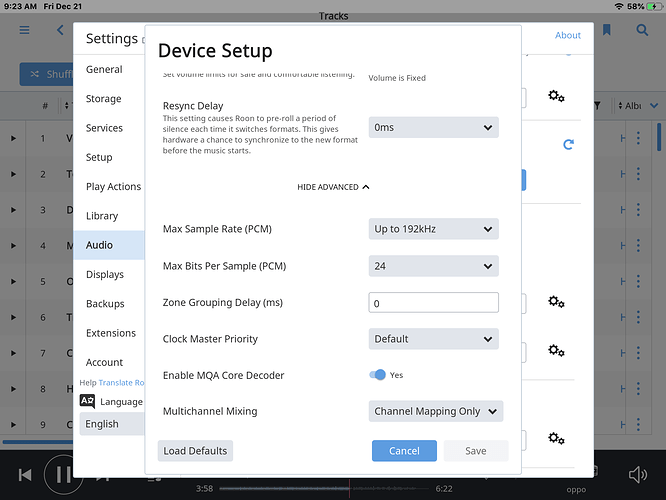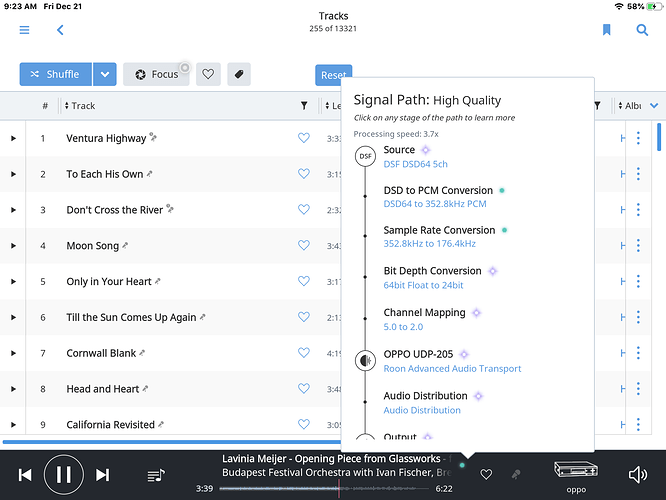 Hello @George_Carlson,
Playing Multichannel/DSD content to the Oppo via Network is not possible at this time, please see this post:
(OPPO UDP-203 and UDP-205 now Roon Ready)
Due to technical limitations within these products, the audio interface available to the RAAT firmware is unable to support DSD or multichannel playback.
OPPO is investigating a path forward, but as of now, we don't know if or when these limitations will be bypassed.
You would need to connect the Oppo via HDMI or USB to stream multi-channel content.
Thanks,
Noris
@George_Carlson, and don't hold your breath. With their dormant state, I seriously doubt new paths are being forged in any direction.
I am thinking of moving my laptop close to my emotiva xmc-1 and using it to play multi track files through hdmi.
So if I connect the OPPO by way of an Ethernet to hdmi converter or Ethernet to usb converter can I then stream multichannel from Roon?
Hello @George_Carlson,
For streaming multichannel content using Roon, I would recommend the following options
An Intel Compute Stick running Roon Bridge. In this scenario, you would download and install the lightweight Roon Bridge application on the Compute Stick to use its HDMI output into the OPPO.

Using the HDMI output on the Roon Nucleus. Adding a Nucleus would be a plug-and-play solution as it already runs the Roon software necessary to enable both streaming as well as acting as your Roon Core.
-John
Thanks John.
Does option one require wireless into the stick?
Hello @George_Carlson,
A USB Ethernet adapter will allow you to connect the Intel Compute Stick to your network without using WiFi. Any Windows 10 PC with similar specs or better should work for your purposes if you'd like something with built in ethernet.
If you do plan on going with the Intel Compute Stick, I have been let known by the tech team that there is an issue with the device not rendering audio when the HDMI device it's connected to restarts. Not every user has encountered this issue, but it is documented as effecting Roon as well as any other audio application using the HDMI output. A workaround to this issue is to use an EDID emulator with the Compute Stick, here's a link to a popular one.
-John
So am I reading correctly that if there is a Qobuz multi-channel album available and my processor is a Roon Endpoint (connected via ethernet) that I will not be able to stream multi-channel??
Hello @Chuck_Gerlach,
It depends what Endpoint you are using.
In this case the Roon Ready implementation for Oppo UDP-203 and UDP-205 do not have the ability to stream multichannel over Ethernet while other Roon Ready DACs should be able to stream multichannel as expected.
If you have an Oppo UDP-203 or Oppo UDP-205 you will need to use USB or HDMI to stream multichannel to it.
Thanks,
Noris
My end point is a Trinnov surround processor. As an aside, does anyone know how to find the multi-channel streamable music on Qobuz?
Hi @Chuck_Gerlach,
The Trinnov should be fine to play multichannel, if you want to test this feature on Ethernet you can grab a sample mulitchannel file from here (http://www.2l.no/hires/index.html). For the Qobuz question, unfortunately I cannot help as I have not seen any multichannel listings yet. You may want to contact Qobuz directly to ask them where to find such listings or post your question on the Qobuz section of Roon Software on Community.
Thanks,
Noris
Use the Qobuz desktop app, and search for "5.1" (without the quote marks). This seems to pick up many (but perhaps not all) multichannel albums available in Qobuz.
Turned out I had an issue with the way I used the Roon input on the Trinnov. Now all is well.
This topic was automatically closed 36 hours after the last reply. New replies are no longer allowed.