Core and Windows controller are updated, but no update available yet for my iPad or iPhone. IPad seems to work fine anyway, so am I bovvered?
Windows 10 - no issues for me - updated yesterday afternoon (my time).
I haven't read the update notes (yet), so no idea what advancement/s this included.
Gonna go find them & read now.

yeah, I'm going to weigh-in. I just went through the update; I am running OS X El Capitan 10.11.6. Build date of my MAC is 2011 and I use it for my dedicated "music server" running Roon b/c this MAC still has the slot loading CD-ROM drive. Easy to rip CDs to my growing "virtual music collection." i use a PS Audio NuWave DSD for my dedicated DAC. I have a love/hate relationship going on with Roon; and right now with the latest update of the software it did cause me some issues but eventually updated and my library is intact. It is just that I find Roon works great at times but then other times it behaves very weirdly and at times does not even recognize my core. I guess this is why i am one of the dummies who doesn't go all in and buy the lifetime Roon license. And so I still pay year to year. Thinking at some point I will ditch Roon for something else. So c'mon Roon please get your operating system rock solid with selective updates going forward for those who want them vs. those who are happy with the status quo.
My Qnap TVS471 updated without issue. App updated from Apple store as normal. Samsung tablet updated without my intervention. All works perfectly…
Updated with no problem. Few seconds to "update database" with 40k tracks running on 9 year old iMac 2010 (i7) using the highest supported Mac OS - High Sierra 10.13. And the very best part is that FINALLY my various iPad / iPhone remotes can successfully wake Roon in the sleeping iMac. I am very happy!
I updated my Core and iOS apps, having issues with Qobuz skipping tracks now, didn't have those issues pre-update.
Songs doesn't start from beginning but a spit second into the song. Pretty annoying
That problem has existed since the first build of V1.7 when the buffer handling was improved
I've been living with it since then. I opened a ticket, but since only a few people experience it and Roon can't recreate on their end, there's littlehope it will be fixed.
Out of curiosity, do you use Qobuz?.
No problems at all. All working great.
Yes use Qubuz but seems also to be problem with my library. Also skipping tracks now from Qubuz playlists
Logon problem with both Qobuz and Tidal
Yes, incredibly annoying and jarring.
Yes, for me Qobuz and local library problem also.
As an experiment try changing the res on your qobuz account to CD quality rather than hi-res.
This seems to have worked for me even, weirdly enough, for local library.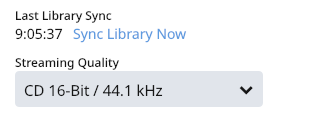 Should I change settings on buffer for my end point Moon Mind 2?
Dunno, all I changed was Qobuz.
Let me know what happens, maybe we can officially take this up with Roon once again.
Worked perfectly for me. It took a little while to redo the files.
John