With Classical Art Song, Lieder, Mélodie etc. I am getting a lot of duplicate composers and lyricists. This is because in meta data the classical "lyricist" traditionally gets a "text" or "poetry" credit which roon seems to interpret as both a composer and a lyricist. Here is an example with Debussy songs: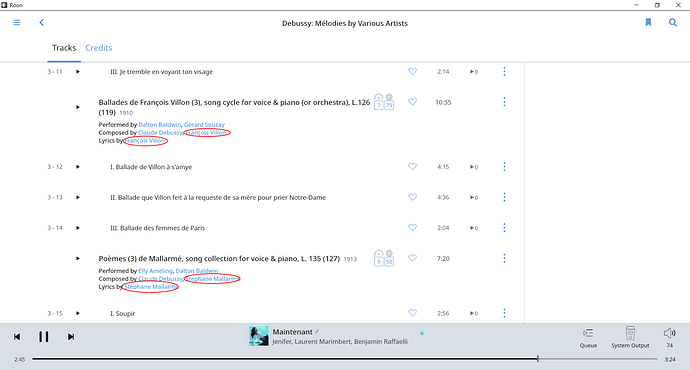 Even if the credit was standardized on "lyricist" it will look extremely odd depending on which country you are from. In France Mallarmé was a poet that Debussy set music to so he is hardly a popular lyricist like Serge Gainsbourg. The same problem can be seen with Schubert Lieder set to the words of Goethe or a Shakespeare sonnet set to music. In the German or English speaking worlds it looks equally odd to see Goethe and Shakespeare credited as Lyricists like Lennon & McCartney.
Mostly these Classical "lyricists" are credited with "text" or "poetry". Standardizing on "Text" might be the easiest way out for these Classical art song genres. An exception is already being made for "Libretto" for opera. I am sure opera fans would be soon to complain if a Wagner opera was "Lyrics by Wagner".