Because of all the other issue I had with Genres, when I did my complete wipe and reload of my database, I kept the Genre settings as is in the import settings. I have the option to use my file's genres off. This only left like 15 Genres on the main Genres page, half of which are things like "Religious, Children's, " and other genres that I dont listen to. The Pop/Rock genre contains pretty much every sub genera that I listen to so I moved "Alternative/Indie Rock" to a top level genre. I noticed however that this causes the generic images of all of those subgenera to disappear in every other area of Roon. For example: I searched for "Alternative Rock" and got a section of Genres in the results. I clicked on the "More" button to open the full page of genres and I get a page where most of the genres are missing their generic picture.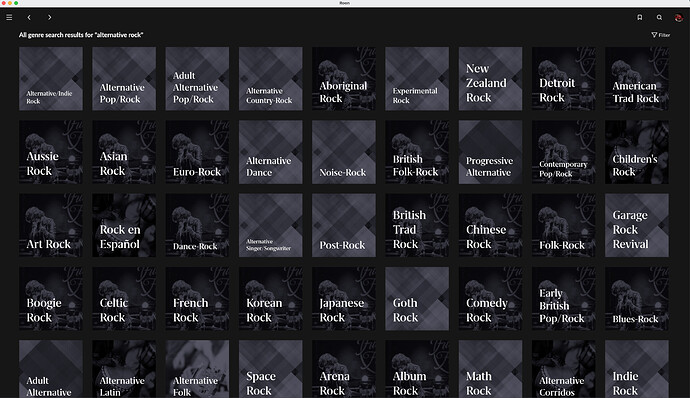 Being the genius that I am (lol, kidding)

I went to edit the "Alternative/Indie Rock" genre and move it back into a subgenera of "Pop/Rock" and it fixed the issue: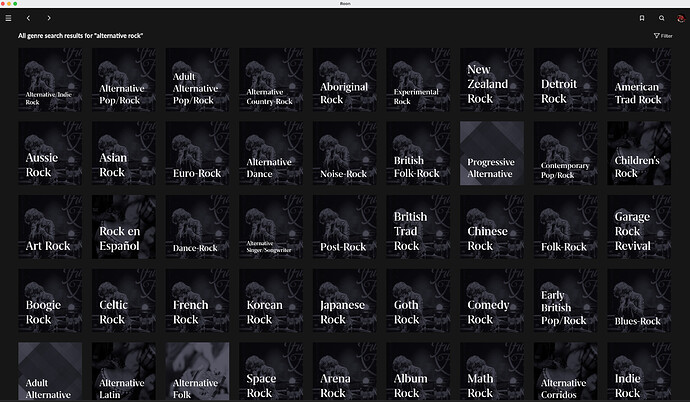 There are still a few blanks but those might be because I need to move other Genres back into their original place.
It also seems you need a generic image for anything in the "New Age" genre because those come up blank on every remote, but New Age was never modified. I also can't find a generic image for it in the iMAC Roon application. I also noticed am "Alternative-IndieRock" generic image that is different than the "Rock" generic image but I dont see it used anywhere.