Roon Core Machine
MacBook Air M1
Remote and Server are separated on the same machine. The problem occurred before as well when they were merged.
Networking Gear & Setup Details
Vodafone ISP Router Connected to a Firewalla which manages my network.
Connected Audio Devices
Hegel H390 via Ethernet to Firewalla, Macbook via WLAN into Access Point (TP Link EAP 620 HD) via VLAN connected to same LAN as H390
Number of Tracks in Library
2000 Tracks 99% Tidal
Description of Issue
This problem got reported multiple times but no solution that was mentioned worked for me.
From all the Hegels in this screenshot (I've renamed them to better be able to tell them quickly apart for switching) only no. 2 was able play via Airplay.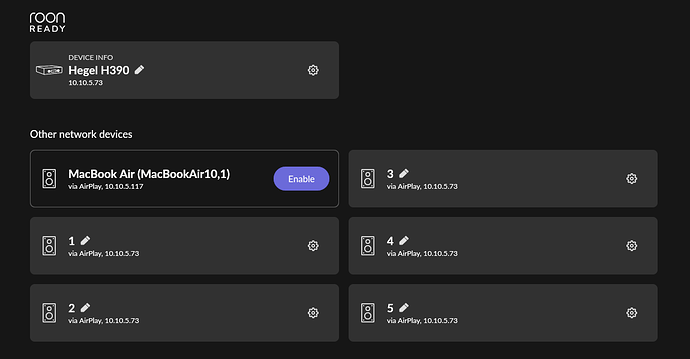 At some point during the day Roon looses connection to the Hegel. I was looking at the Audio devices and in that moment multiple devices got added all at once. Which can be seen in this screenshot.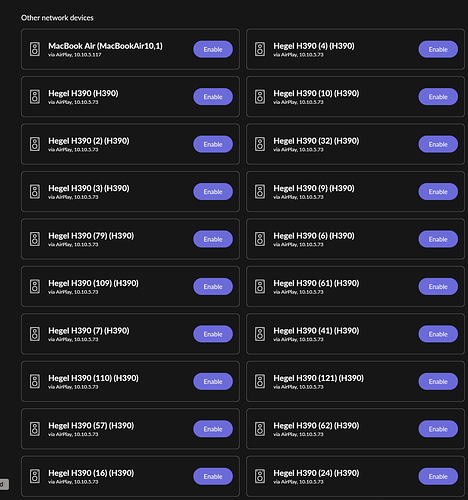 What I've tried so far:
Deactivated MDNS reflector on my Firewalla (it is still deactivated)
Restarted the Firewalla
Restarted the Hegel (I will now reset the Hegel)
Restarted the Core and the machine multiple times
Deleted the content of RoonServer Folder and Roon folder and began a quasi new setup. No change. Multiple AirPlay Hegels are added.
In the beginning the devices got deleted but came back after some time. Now the list doesn't even get cleared anymore.
I wouldn't mind this problem at all but throughout the day Roon looses connection to the Hegel and stops playing. I then have to click play and then it works for some time again.
When it happens again I'll edit this post and attach the server log.
Here are the former threads: