I'd like to use some experience here. My current not-so-expensive setup uses a Google Chromecast as Roon endpoint (96KHz / 24 bit) and goes via HDMI into my Denon AVC-X4700H receiver. My speakers are B&W 804D4 (yes, I've always learned that they must be the best piece of the chain). I won't show a photo (it's not the "Showing (off) your Roon setup" thread) but a diagram tells more: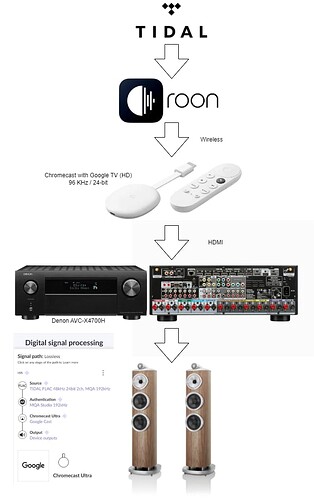 I also have a Raspberry Pi B + RoPieee endpoint with an iFi ZEN DAC and a Focal Elegia headphone at my working desk, and I'm also quite happy with that.
Now the question: I'm thinking about replacing the Chromecast with a new RoPieee endpoint and an iFI ZEN DAC, then leading into my Denon with RCA cables. Thus, like the diagram underneath: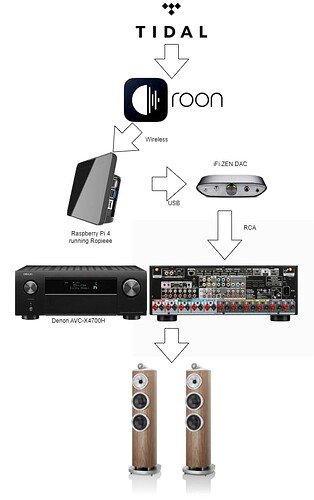 Will this make my system better? The first diagram has the Roon signal path as "Lossless" but of course it doesn't see beyond the endpoint… I can't decide for myself which configuration is the best.
I'd be glad to have your input !