Helpful Links
If you notice a problem with the metadata on one of your albums, be sure to first check out these articles for some helpful advice in our Knowledge Base:
Qobuz & TIDAL Metadata Issues
If you notice an issue with Qobuz or TIDAL albums, first check to see if you notice the same issue in the Qobuz or TIDAL apps. If you see this issue in their apps as well, the best option is to reach out to Qobuz or TIDAL directly.
Submitting Corrections To AllMusic
One of Roon's metadata providers is the same provider that is used by AllMusic (but note that AllMusic metadata is often limited to US releases). If you notice that an issue in Roon is also on AllMusic, you can submit a correction directly on the album's AllMusic page.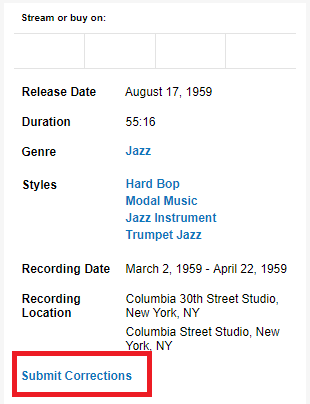 Please note that this doesn't instantly reflect in Roon. If your correction is accepted it will take about a week or two before you'd see this change in Roon. If you're still seeing an issue after something has been corrected on AllMusic feel free to reach out to us!
Reporting a Metadata Issue to Roon Support
If you need to report an issue to the Roon team, please provide as many details as possible about the issue and the album that's experiencing this issue. The more information we have the quicker we can understand and resolve the issue.
Please be sure your report includes:
Information about the album.

A screenshot of the album details page.
The number of discs and tracks.

Have you made any edits?

If you're not sure, please say so.
If yes, which edits did you make?

Is the album cover provided by Roon or was it edited / coming from a file?
Is the album identified?

If identified, was it automatically identified or manually identified?

Is the album local or from TIDAL/Qobuz?

If local, include screenshots of the file tags
If from TIDAL/Qobuz, do you see the same issue in the TIDAL/Qobuz apps?

Any additional information that you think might be helpful in understanding this issue.
You can learn about taking and sharing screenshots here.
Every post in the Metadata Support category is reviewed by our staff, so you don't need to flag anyone down.
Just click the New Topic button to get started.