Let's keep this topic about the feature request, there's dedicated topic to discuss Amazon's initiative…
This is huge for me as a Prime member. I know an integration is a huge job to add to the list but fingers crossed Roon have figured out a way to integrate with less effort now with Qobuz onboard.
Well it's now live and I just signed up for the trial. The price for hi-res streaming is good, and the app seems to work okay. Selection is pretty good for a new service, too.
But I won't leave Qobuz unless Amazon and Roon get the integration going. Having the streaming service as part of my Roon Library is just too useful a feature to give up.
Dear Roon members/owners
work to be done … Amazon HD integration
+1 for integration into Roon if possible. Using Qobuz now with Roon, and choice of service providers is a good thing.
+1 as well. I'm a current Tidal subscriber, just the basic non-MQA $10/month. In fact I pretty much stream Tidal exclusively with Roon. As an Amazon Prime member it would be fantastic to have Amazon Music HD as an option.
Roon - please add Amazon
Don - lifetime member
+1 Super interested in another option.
Yes, ROON, please integrate with Amazon HD music? You can do it! Please advise!
Agreed with the other posters here, I'm clamoring for Amazon HD integration in Room!
The new Elephant in the Room has just arrived.
Yep, I also think this would be great and help keep me tied to Roon.
Another vote for integration if it's possible. Thanks.
Roon integration would be nice. It seems like Amazon Lossless requires the desktop application which at the moment does not support Linux

Nope it's supported on iOs and Android (phone specific) as well. I am sure their API is cross platform.
Yes, very much want to see Amazon High rez added to Roon. Dumped my Tidal account the day they adopted MQA.
Alan - Lifetime Roon subscriber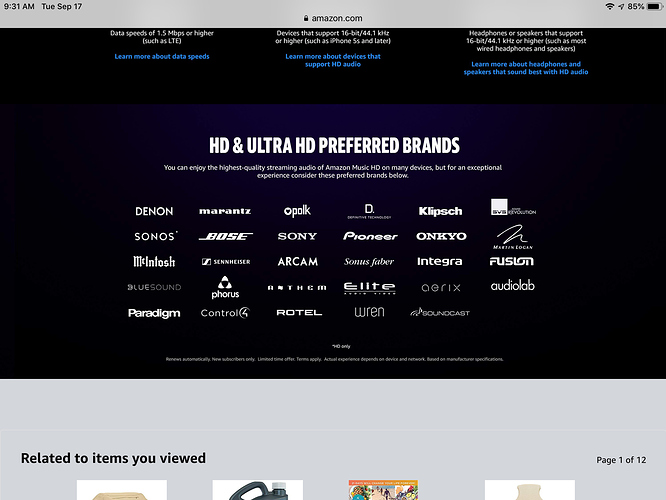 Seems like if all these other brands are going to be integrated then Roon would be too at some point, right? A bit surprising they are not already on the list?
Not sure how Tidal or Quboz survive this. Amazon is offering 24/192 all FLAC, no MQA, for half the price of Quboz. I see Amazon is drawing in many audio brands, including McIntosh, hopefully its going to work with Roon as Amazon may be the only high Rez service remaining unless Apple or Spotify join in. This could all be very bad for Roon if they can't convince Amazon to allow the sort of server access that Roon needs. I'm contemplating upgrading to a Roon lifetime subscription, but will not do so until I see Roon's compatibility with Amazon. A major reason I use Roon is because of how it seamlessly integrates my local and Tidal libraries. But Tidal & Quboz seem doomed.