So what, it can only be played thru Alexa devices.
Hi-res on Alexa speakers, absurd.
latest article doesn't say that, but who knows?
Implied in this quote from the latest article, but you're right - who knows.
"For access to Amazon Music Unlimited across multiple devices, customers pay a $9.99 per month subscription, although those who already pay to be Amazon Prime members only need pay an additional $7.99 per month."
I don't believe Amazon would ever get in bed with Roon. Why should they?
While we're all playing the guessing game, why does Hi-Res mean Roon?
The official Tidal and Qobuz apps can play Hi-Res to compatible Chromecast devices… don't need Roon for Hi-Res streaming to work.
What about Amazon Echo Link? With digital output…
Use whatever DAC/Amp/Speakers you want…
Digital output already supports PCM96kHz…
I'm not interested at the moment because I can only play Tidal to Alexa devices by voice commands… I don't want to be talking to a box late at night with people sleeping. If they allow 'casting' I might be interested later. Things are changing quickly though, so watch this space. Things get interesting when mind commands arrive

Hi-Res doesn't mean Roon. Roon means Roon. I would no more listen to Amazon Hi-Res sans Roon, Alexa speaker or not, than I would listen to native Tidal or Qobuz.
People on this forum already denigrate any streamer that costs less than $1000.
I don't have golden ears, far from it, but I can tell when 96K is playing and 96K is Hi-Res by definition only.
This is only for Alexa devices and those who don't listen to music, IMHO.
Mind commands are only going to result in a lot of deaths.

Ha true but let's not worry about them… when you said Hi-Res would be absurd with Alexa speakers I just wanted to point out that you can use Amazon Echo Link digital output (96k right now) with whatever DAC/Amp/Speakers you want…
Great and telling quote about MQA -
"Amazon said it couldn't explain high resolution to its customers but that blue MQA light was all it needed."
Damn, now I've done it.
Amazon music is not limited to Alexa it has a desktop app to play via a computer and on mobile so wheredoes.it mention Alexa in the article other than to talk about the free tier you get on there already. So some ones putting 1+2 and getting 4 here.This is an interesting turn and one to watch out for they have very deep pockets.
I say it's implied in the article and stated outright in the Twitter feed, but then maybe the author(s) shouldn't have implied/stated that.
Amazon are marketing geniuses, so yes, it's an 800 lb. gorilla for Tidal and Qobuz. What pisses on those two, now by extension, will splash on Roon.
I don't think Amazon cares about Tidal and Qobuz… there are much bigger fish to fry in the long term game…
'The Big Four' (Apple, Google, Amazon, Spotify) have the deepest pockets… Some people think 5 years from now, these 4 may be the only ones left…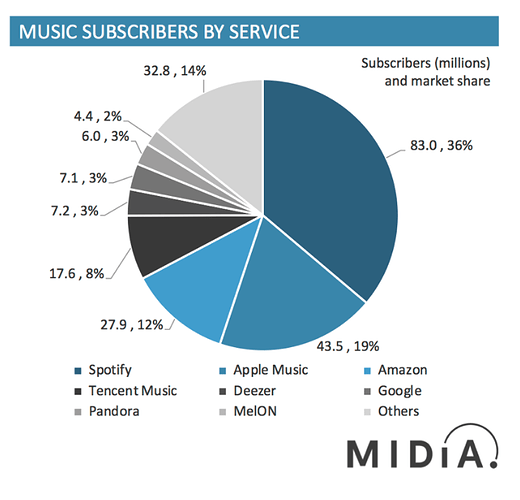 Don't know whether they care or not. It will probably turn out the Tidal and Qobuz are just two puppies that Amazon accidentally steps on while it's on its way to some place else.

If this is true, then maybe it's good a Roon life time sub's ROI is less than 5 years.
Oh yeah, theere's beginning to be rumblings of breaking up the big tech companies like Amazon, Google, etc.
Look at the chart above… It may be very safe to assume Amazon don't care about Tidal and Qobuz…
It's unclear where Amazon's high-fidelity service will fit in, as the bit rate isn't known.