Nice! I wish it worked on my LG OLED with WebOS.
Hey @darqman,
Can you give me a little information about what you're seeing when you try to use your LG OLED as a Web Display?
What is the exact model of your TV? Is there any information about what version of the Web OS browser is being used?
Thanks!
I own the 65" 2017 version of this TV.
It runs LG's WebOS. If I navigate to my display URL I see the Roon logo, but it doesn't show up in the Display category of settings to enable it or select it as a display.
By the way, I'm using the built-in web browser that is already installed with the TV. I have a Fire TV cube connected to it, but it suffers from turning off after 30 minutes as mentioned in a previous thread. I've found that Chromecasts are the best devices for Roon displays.
I have exactly the same problem, with the 2018 model of the LG OLED tv.
I appreciate the information here, @darqman!
I've passed along your information to the technical team and they're going to take a closer look at this. I can't make any guarantees that we can make this a compatible Web Display, but we will certainly investigate the possibility and let you know if we are able to make any changes here.
Thanks for the report, we really appreciate it!
Same problem with my LG TV… just get Roon logo

But I've now bought a Chromecast Ultra which works flawlessly

Hey @darqman,
Can you verify that your Roon Core machine and the LG TV are on the same IP range? If you're unsure, you can use an app like Fing to scan your network to find the IP address for both devices.
Mine are and both hard wired
Yes, they are both on the same network and IP range. I see a Roon logo on the TV but Roon core won't show it as a display.
Hello @darqman,
I wanted to come back to your case since we internally discussed the support for these kinds of TVs today. At the current time we believe that the operating system on those TVs only support older version of Chromium which is not compatible with Roon's Display functions but I would like to confirm this by following these steps:
Please navigate to http://www.whatismyuseragent.net/ from your LG TV and post a screenshot of the information on this thread

Take a look in the LGTV settings and see if you can find the WebOS TV version listed and let me know that info

Verify if there is a firmware update available for that display and if there is, try updating it to the newest OS and see if the same issue still occurs
Thanks,
Noris
hi,
my LG 77C8 was delivered earlier this week. With the built in Browser the display feature was working for me. Just gave it a try. The only thing is that the screen saver of the TV is activated after a couple of minutes (according to my settings), although the lyrics were moving on the screen.
I didn't have any updates for my TV but I did have Automatic Updates turned on. I still don't see the TV as a display in Roon. Here's the screenshot you asked for.
Software version is 05.80.15
LG WebOS is: 3.8.0-61106
My TV is the 2017 model, not 2018 so maybe I'm not getting the update? Having said that, I bought a Chromecast Ultra for the TV so using the internal browser isn't as big of a deal as it was. My bigger issue with Displays now are all the duplicates that magically appear on their own and force me to reboot the core and remotes every time I sit down to use Roon. Thanks for following up.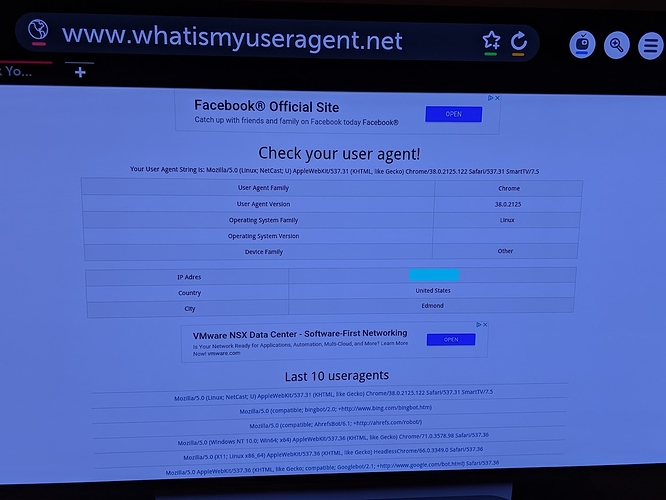 Hello @darqman,
Thanks for providing those screenshots, that LG WebOS version does look out of date and using Chrome v38 which is a bit too old to be compatible with our displays feature. Since the TV is the 2017 model I fear you may be right that it does not support WebOS 4.X: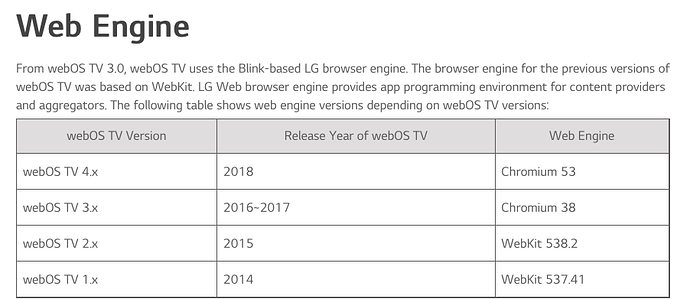 I have pinged the QA team again regarding your duplicate displays case and will be sure to let you know on that thread once I hear back.
Thanks,
Noris
Hi Noris, I wish you could fix that. The display feature doesn't look like beeing that sophisticated, not to be able to run on Chromium v38. Most other sites work very well and I think there are many LG 2017/18 sets out there…
Thanks,
Stephan
I also have a 2017 LG OLED TV. Interested in the answer to this.
Hey Bob. As far as I know, if your LG OLED is too old (like mine) then you can't do much about this. The workaround (which is actually a better solution in my opinion) is to stick a Google Chromecast in one of the HDMI ports, and configure it as a Display in Roon's settings. This has the advantage that the display will kick-in automatically when you start playing to whichever endpoint you have set it up as a display for.
I have it setup like this on a couple of LG TVs including one where the web browser works fine but the Chromecast (bought for £20 off eBay) is just better!
Thanks very much - I'll try it. Bob