I am experiencing exactly the same with my Nexus 7. New install as I've just started trialling Roon.
Hi @Andrew_Hunt — Please accept our apologies for the trouble here!
Our team is working on resolving this issue and we will be sure to keep you updated when we have more information available. In the meantime, we are hoping you can let us know more about your Core and networking setup.
Thanks!
Thanks @dylan.
I'm based in the UK.
The core is installed on a PC running Windows 10 64 bit.
I'm unsure of the router model - it's my ISP's (EE) standard issue from around 15 months ago.
Endpoint is a Raumfeld Connector, which Roon is treating as a Chromecast device.
Both the core and the endpoint are talking to the router over WiFi. I have the 2.4GHz and 5GHz networks set up as separate SSIDs so I can dictate what connects to each. I find the 2.4GHz fast enough and more stable, so PC, endpoint and controllers are all using that network.
I also have a Pixel 2 which works without exhibiting this issue, although I had to enter the PC's IP address manually for it to find the core, and it can take c. 10 secs to reconnect each time. The Nexus 7 has no such issues finding the core, but then gets stuck at the point illustrated in the screenshot provided in the original thread.
Hi @Andrew_Hunt,
The team has been investigating this issue and we've posted an update here:
Hello,
We've released a new update, Roon 1.7 Build 528, which contains improvements that we believe will help with the issues you are experiencing here. Please see our release notes below:
Thanks,
The Team At Roon Labs
It's still broken on the nVidia Tablet. It used to work on this device, but a few versions back RoonLabs did something to break it. I just tried again with the latest version in the Google Play Store and as before it just freezes at the "Waiting for Remote Core". Sometimes it actually detects my core, but since the screen is frozen, I can't progress past this point.
Shield Tablet K1
Android ver 7.0
Kernel ver 3.10.96+
Build # NRD90M.1928188_1065.2559
Shield tablet s/w ver 5.4
I just updated to Roon 571 on my old Nexus 7 2013. Seems to be working fine although I've only fooled with it for 10 minutes or so.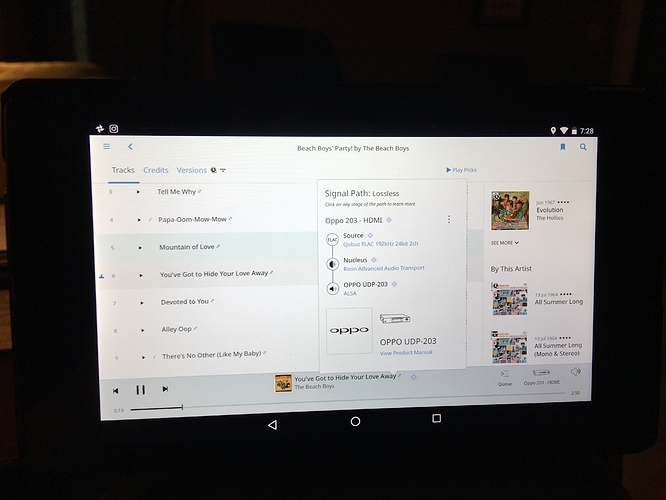 Yes, I concur


It's also working for me since the update.
This topic was automatically closed 365 days after the last reply. New replies are no longer allowed.