Core Machine (Operating system/System info/Roon build number)
Nucleus Rev. B
Network Details (Including networking gear model/manufacturer and if on WiFi/Ethernet)
Google AC-1200 Mesh Router
Audio Devices (Specify what device you're using and its connection type - USB/HDMI/etc.)
PS Audio DirectStream DAC utilizing its I2S input from a Matrix X-SPIDIF 2 and powered by a Teddy Pardo LPS
Controlled by a 3rd generation 128GB 11 inch iPad Pro
Description Of Issue
I started a thread about this exact same problem I was having back in May but then my Nucleus suddenly started working as it should again and so that thread was locked after I said that my problem had been solved. I can no longer post anything to that thread because it has since been locked.
My network is working flawlessly with every device in my home except for my Nucleus. While listening to a song, it will suddenly stop playing without any input from my iPad. I've tried reinstalling the app and occasionally that brings the Roon screen back up for a few minutes but then the Nucleus loses the connection again. I've tried manually turning off the Nucleus and starting it up again and that occasionally works but only for a short time. I do this repeatedly over the course of an hour or two until I throw my hands up in disgust until the next day. Today if worked for three hours until it failed again.
My original thread can be found here: My Nucleus keeps losing its connection [Resolved with Roon 1.8 (Build 806)]
As stated, I'm having EXACTLY the same problem again.
Here are a couple of the screens that appear while this process is playing out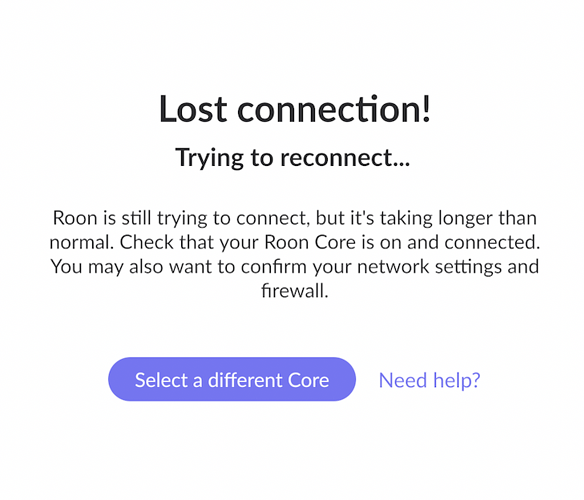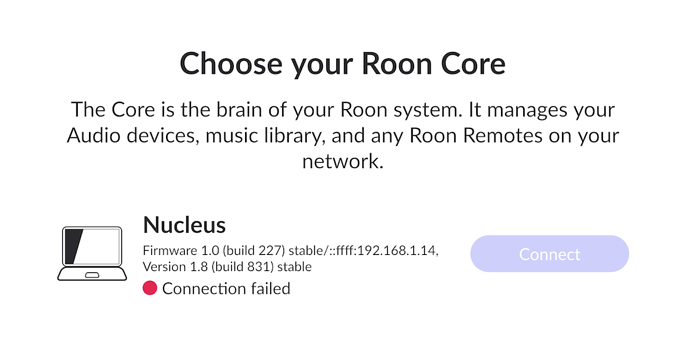 And I was asked to provide a sceenshot of this message too: