Still not fine for me with a Nucleus and the 1.7 - 536, even after reboot and relaunch app
Hi @Thib,
So we can better assist you, please provide a brief description of your current setup using this link as a guide.
Make sure to describe your network configuration/topology, including any networking hardware currently in use, so we can have a clear understanding of how your devices are communicating.
Can you share a screenshot of the error you're seeing?
Hi,
I am still facing the same issue with a Nucleus and the 1.7 (536), stuck in initializing even after rebooting and re installing OS and App remote.
Thibaut
Hi @Thib,
I've shifted your post into your existing thread so we can have all the info in one place. Can you please provide the info @dylan requested?
Hi,
Thank you for reorganizing @noris Noris.
@dylan I received mu nucleus today.
It looked fine, but asked me to restart to finish installing updates.
Since I restarted, my nucleus is stuck in initializing :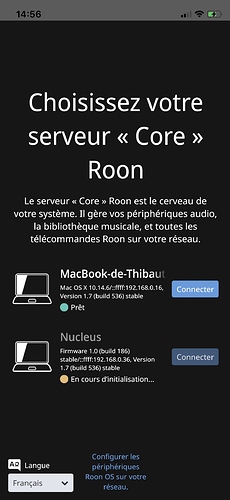 In the mean time everything looks fine in the administration panel: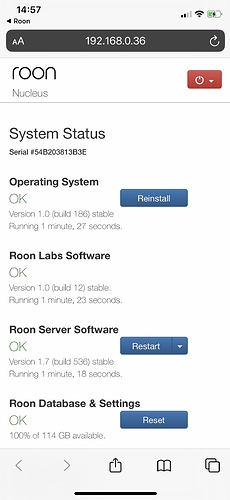 I tryed, reboot, restart, re install OS, reinstall App remote, switch off AC… still stuck
Details on your Core machine : Nucleus basic rev B
Networking details : Core used to be on Macbook, try to move it to nucleus. Will be connected to Nad M10 via ethernet. Ethernet for Nucleus and Nad is provided by a Netgear Nightawk switch wired to an Intenet Box (operator RED). Will use iOS devices for remotes
Audio devices in use : Do not think relevant here
Library details Everything is streamed via Qobuz, nothing local
Have you had an update on your remote?
No notification on remotes, but I un install an reinstall the app, I still have the issue.
I addition I see the same thing from the roon Mac OS app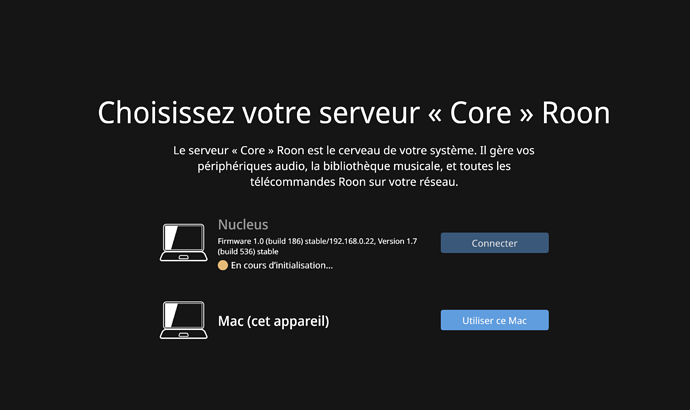 There is an app update. Mine didn't show it but when I searched for Roon and pulled the app up manually it eventually offered me update as an option.
My remote is 1.7.00536.
Looks like 18h old
That is up to date.

Yes, everything looks updated but not working

Hi @dylan,
This time it solved my issue!
Thank you to all the team for your reactivity.
This topic was automatically closed 36 hours after the last reply. New replies are no longer allowed.