Hello @ACvitus,
Please see my post above regarding the Roon Ready feature on the Vitus RI-101:
-John
Thanks for clearing up that mystery. Any idea on a timeframe for them becoming Roon Ready?
Hello @Veneet_Gupta,
It is our policy to not give estimates for devices completing Roon Ready certification.
-John
Thanks @john for clarifying. Since Roon reports that it is using RAAT in playback to my RI-101 I had assumed that meant it's Roon Ready. Sounds like it's only almost Roon Ready. Not an issue for me as native playback of DSD via Roon is not a priority.
If the device becomes fully certified, how does Roon pick that up? Are device profiles checked against a database each time Roon starts?
Hello @ACvitus,
When your Roon Core contacts the Roon cloud infrastructure for things like metadata updates and account checks, it will also request the latest information on Roon Ready and Roon Tested devices. When a device completes Roon Ready certification, Roon clients will automatically update the certification status of the device in the background over the course of a 24 hour window.
-John
I have been comparing the Roon signal path between my Linn streamers and my Vitus RI-101. I noticed that with Linn, although they are only "Roon Tested", Roon knows that my Katalyst KDS is DSD capable but that my Makik DSM is not (part of the testing?). The advanced device setup options in Roon for my Linn streamers have nothing on DSD however, just like the Vitus, although unlike the Vitus, DSD transcoding is device-specific.
This brings me to an observation that concerns me: as the user, I have no control at all of whether or not Roon will transcode a given format? Am I locked out in that regard? I will continue to encourage Vitus to do what they can to move out of their uncertified Roon Ready limbo. But ideally, there would simply be an option for me in Roon's device setup to enable formats that I know my DAC supports, even if Roon certification is not complete.
I'm beginning to understand now why my dealer is in some respects reserved about Roon.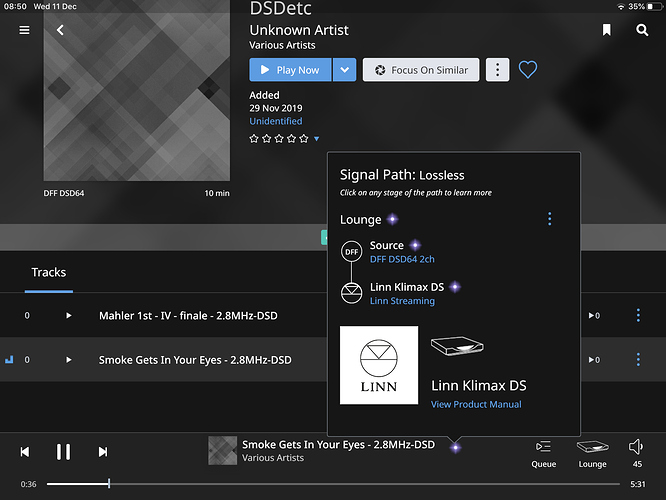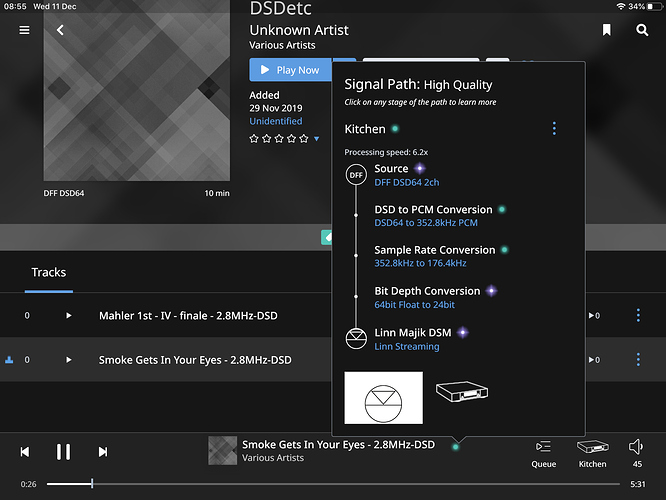 Hello @ACvitus,
You are free to change any of the transcoding options by changing the settings in Roon's "DSP" Sample Rate Conversion configuration.
You can get to the DSP screen in Roon by tapping on the bottom right volume widget and then tapping the "DSP" button.
The default configuration for the "Sample Rate Conversion" feature is "For Compatibility Only", meaning that Roon will only transcode your content if it detects that the device is incapable of playing the track in its native format. If you change this to "Custom", you have full control over all of the transcoding/conversion options for every media format that Roon supports.
-John
Thanks John, I had considered that, but I have been unable to get the method you describe to work. I had thought that under the Custom conversion options, I would find something like "Native" to enable me to stream DSD64 natively. If I select Default, all I get is the PCM transcoding. Can you can tell me where I'm going wrong, or otherwise is this perhaps something that could be fixed/made more intuitive?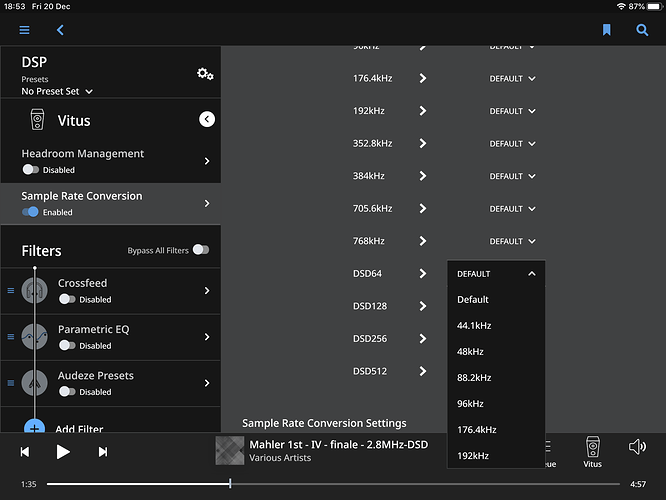 Hello @ACvitus,
This is due to the fact that the Vitus is not Roon Ready certified. In its current state, the Vitus is reporting to Roon that it does not support DSD playback, so Roon will not play DSD content to the device under any circumstance. This is something that is checked during the Roon Ready certification process to ensure that all supported formats play correctly from Roon.
Roon will allow you to override the DSD settings for USB DACs, as these devices are not "certified" in the same way that Roon Ready devices are.
-John
Thanks, so you are confirming that because the RI-101 is in a Roon limbo (i.e. RAAT enabled but not DAC certified), Roon is not permitting native playback of formats I know that the Vitus supports. However, from a user perspective, the custom options ought to permit the user to enable native playback of all formats, as a safety net in the event that something goes wrong in the handshaking between Roon and the DAC. If DSD options can have an override for USB DACs, I would argue the override should be available universally.
Hello @ACvitus,
In a sense, yes. However, it should be noted that that there is a difference between "RAAT" and "Roon Ready". RAAT can be run by end users, Roon Bridge is actually a simple application wrapper around RAAT. Roon Ready uses RAAT for audio transfer but includes many extensions that allow device manufacturers to implement native functionality like volume control and metadata display.
RAAT endpoints allow you to override the DSD settings even if they are not detected.
Roon Ready endpoints are a product of careful iteration and testing between the product manufacturer and Roon, and should not be able to be configured in a way that would break playback to the device under any circumstances.
-John
OK, will agree to disagree here. A "native" option in transcoding customisation does not exactly feel like an outlandish request, but perhaps I'm in a odd situation in terms of my hardware. In the meantime, I have Asset and Minimserver to turn to when needed, as they don't prohibit what formats I can stream natively.
This topic was automatically closed 365 days after the last reply. New replies are no longer allowed.