Dear Rooners,
I'm happy to announce the BRAND NEW rooExtend-Box.
The rooExtend-Box was made for all music lovers who don't want to tinker or don't dare to setup the Raspberry Pi. As plug-and-play solution that doesn't require any tinkering. Unpack, plug in and you can use all my Roon extensions.

In this thread I offer support exclusively for the owners of the rooExtend box.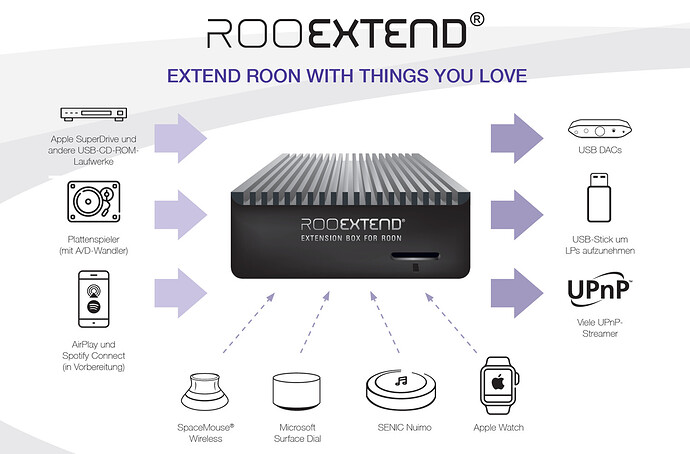 As a plug-and-play solution, no technical knowledge is required to operate the rooExtend-Box. It is operated entirely via Roon (Settings/Extensions). All upgrades are automatically installed on the rooExtend-Box between 2:00 a.m. and 4:00 a.m. local time.
In addition, a detailed manual will be available for download, in which everything is explained in detail for those who are interested.
The rooExtend-Box will be distributed starting in Germany through my sales partner ATR at https://rooExtend.com and HiFi retailers. The offer will be visible till end of this week.
Despite of this I will continue to support the DIY community. This means that I will, as before, provide SD card images for the raspberry Pi. My well known support in the forum (look for rooExtend) will continue as before in all my threads.
Stay tuned
DrCWO