How do you disable DSP? Thanks.
Sorry guys… I just had to give up on it as I'm just far too busy at work… I'm back on ROON 1.8 Legacy on my MacPro running macOS Mojave… and ROON is rock solid. I will just wait until the fixed version get's released. Sorry I haven't given much input after raising the issue in the first place… but I can't live without my music… so had to revert back.
I'm all Intel MacBook Pro also (MacPro is Intel also, but Roon 1.8 works perfect with it)… with no DSP effects or Firewall or Filters that I am aware of also.
Yo Wes… would you or any other member of your team have any insights into this new post I made also…?
Regards,
Anthoy
Without any solution I had to revert to macOS 12 on my Intel iMac. Now everything is running smoothly. For a server purpose I really don't need the latest macOS version.
@Wes, I have macOS Monterey 12.6.1 running on a MacMini, so installed Roon Server v2.0 (build 1148) on there, and Roon Desktop 2.0 (build 1148) on my Macbook Pro running macOS Ventura 13.0.1 connected to the macMini Roon Core, and everything works 100%.
So it appears to be a problem with the roon server 2.0 component running on macOS 13.0.1.
Thank you, @Geoff_White and everyone. We are investigating this issue and working on a solution.
Regards,
Wes
Now Roon Server crashing on intel's iMac with macOS 12.6.1


Is there any platform where Roon 2.0 works flawlessly?
Without a solution I will go back to Plex in order to use my own files on the move. ARC was my reason to subscribe to Roon.
Unfortunatley, I think we will all need to be a little more patient until the fix arrives. Roon are excellent at getting patches/updates out as soon as possible. I don't think it will be much longer. I have reverted back to Roon 1.8 Legacy on my MacPro and it's rock solid, but you will be missing ARC. Plexamp is great also… I have it… but it's not a patch on the Roon overall experience. Hang in there… a fix is coming… of that I'm sure…
Regards,
Anthony
Posted 5 hours ago
Joined Feb 10, '21
Read 42m (39m recently)
You joined the community in feb 2021…just looked around at what was going on recently? ARC only released a couple of months ago. I'm surprised. Have you created your own #support ticket yet?
There is a 30 day full refund policy too…
This post was flagged by the community and is temporarily hidden.
If it was a dog maybe I'd ask

not a cat person myself

anyway hope things get better for you.
I don't understand why my post was flagged. It was supposed to be humoristic. English is not my native language. Sorry if I offended anyone

Main thing is, did the new update fix your issues Joao…? I'm still having problems… it did nothing for my setup. I'm back on Roon 1.8 again…

This is now officially a total disaster for me… all the toing and froing from my MacPro to my MacBookPro to authorise, deauthorise and try and get ROON 2.0 working, testing, has resulted now in my ROON 1.8 Legacy on my MacPro now constantly quitting also… before all this… ROON 1.8 was rock solid… actually all the ROONs before it… I never had an issue… so last night, I deleted the ROON app… but kept a copy of the macOS Library files (Roon/RoonGoer/RAATServer) and did a clean install of Roon 1.8 Legacy… but as soon as it all launched and added all my TIDAL content… I could see, all my LOVES of albums and tracks was all gone… the app seemed solid enough… but years of all those personal customised elements was a massive loss… so I replaced the fresh ROON folder in my macOS library with the copy I had from before… and all returned to normal… I thought all was OK, until I launched ROON again this morning and after about 5 mins it crashed.
What is the best way to get my ROON 1.8 back working with all my customised reactions to my collection…?
Regards,
Anthony
I just did a fresh install of ROON 1.8 Legacy again and this time restored from a back up… I had from last week… November 25th and it all restored fine… and then just QUIT again… just like ROON 2.0 on my MacBook Pro. Roon is now totally unworkable on my MacPro macOS Mojave system

This is now about the third new install of Roon 1.8 Legacy. For this version… it's a fresh install only… no Restore from Backup and now I'm stuck with it adding none of my tracks to my library…?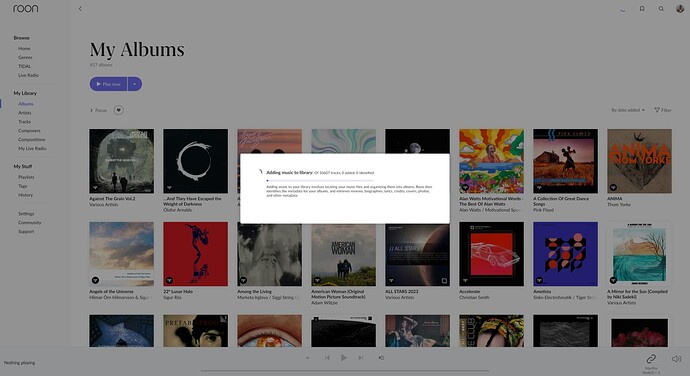 It's been like that for the past 15 minutes. I have Fibre to the Home. 1,000MB download and 100MB Upload Speeds. I'm ethernet connected.
Any idea as to what could be going on… this is so FRUSTRATING!!!
Regards,
Anthony
I quit ROON 1.8 again… and relaunched… now it seems to be indexing and adding my tracks. Very strange… it's like having to relaunch the app, forced/kick started it to get working on adding my tracks ?
I have over 50,000 tracks in my library.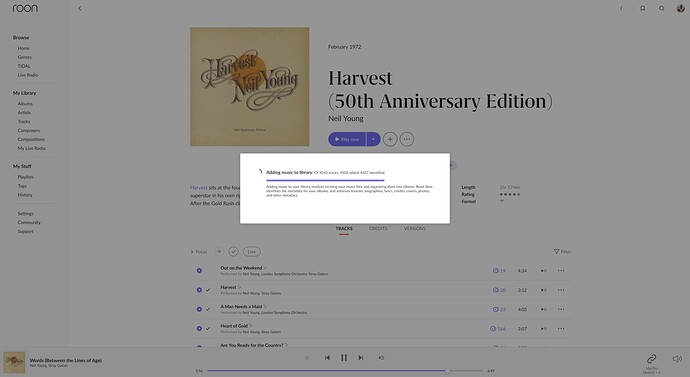 Anthony
Still quitting… and unstable.
HELP PLEASE!!!
Anthony
I can see on my MacBook Pro I still had the previous Roon 2.0 RTT and Roon Server folders inside the macOS Library folder… so I have deleted these, restarted my MacBook Pro… and now I only see one core option when I launch up my ROON 1.8 on my MacPro… hoping this might fix the issue.
Playing some music now and flicking around menus to see if u stays stable. Also noticed if my Roon 1.8 was running and staying stable on my MacPro… I would launch Roon 1.8 Remote on my iPad Pro or iPhone and that action alone would cause Roon 1.8 Legacy on my MacPro to quit.
So annoying all these issues. I love my ROON experience while I work alone in my office everyday… this is a massive loss to me if I can't rely on it to play and sync up my audio systems in my office anymore

Anthony
I am using the latest builds Roon 2.0 (1169) and so far no crashes on iMac intel + macOS 12.6.1. As I said, there is nothing else running on this iMac. No other app or extension. Nothing. Clean install. I have an external HD with almost 100,000 files ripped from my CD collection.