Since upgrading to Roon 2.0, my Roon core running on a 2018 8GB Mac Mini constantly crashes, whether or not I am using Roon. I understand there are going to be issues, but this does not seem to me to be an uncommon or antiquated setup. If it is no longer supported, would've been nice for the upgrade program to have noticed. Please advise if there is a quick fix, or if I just have to wait until the next patch.
Roon Core Machine
mac OS Monterey 12.6
Mac mini 2018 3.6 GHz Quad-Core Intel Core i3
8 GB 2667 MHz DDR4
Networking Gear & Setup Details
Mac mini hardwired to Router via Netgear switch
Roon clients connected via Eero Pro mesh network
Connected Audio Devices
Failure is on core, not connected Roon clients
Number of Tracks in Library
29000 tracks
Description of Issue
Roon 2.0 core on Mac Mini is crashing, whether Roon clients are playing or system is idle. Generates and sends a detailed crash report to Apple.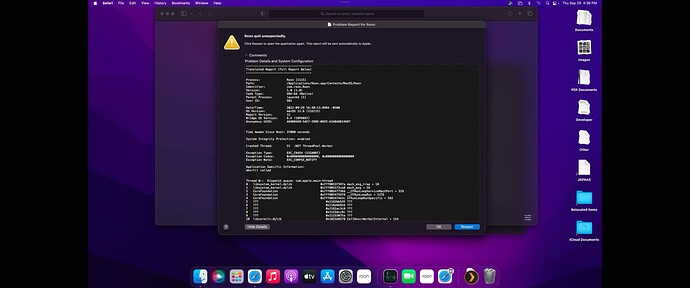 Add images