Roon Core Machine
InnuOS Zen Mk.III
Networking Gear & Setup Details
AQvox Switch LE
Connected Audio Devices
Streamer: Weiss DSP502
Number of Tracks in Library
40.000, using CD-Rips, Qobuz and Tidal
Description of Issue
Hello dear Roon-Dev Team,
first of all I wanted to say a huge Thanks you for your fantastic work and the great support. Roon, also Roon ARC is an absolute masterpiece and I'm very glad to have it in my shop for use! (I'm a HiFi dealer using Roon to demonstrate our equipment, also we have already many satisfied Roon-customers who are very happy with Roon! So thanks for your great work and please keep up the great service!)
I'm writing you because I'm experiencing a very strange problem with Roon Radio in Roon ARC. I'm using an InnuOS Zen as Roon Core, have around 2TB music stored on it, also I have Tidal and Qobuz integrated in the Roon account. When I'm using the native Roon App, I can use Roon Radio perfectly - no bugs, no problems, no issues. I'm using it 24/7 in my shop, also at home.
When I'm using Roon ARC, "normal playback", so picking an Album or a Song, no matter if stored "local" on the InnuOS, or via Qobuz or Tidal, works perfectly. But when I try using the "Roon Radio" function, there is very often a problem with playback. So e.g. you are choosing a Song to create a "Roon Radio" playlist, and randomly it works, and next time it doesn't anymore. It just shows "Roon Radio starting…", but then no Song is played. I tried turning of "limitate Roon Radio to library", sometimes it helps, sometimes it doesn't. Strangely, when you choose the same song in the native Roon App, everything works perfectly and you can play. When you stop the playback and switch to Roon ARC, the same song can't play via "Roon Radio".
When you close the app several times, it can sometimes work. There is no option to "force" the error, or to replicate it. I was thinking of bad connection or problems with the library, but I just can't find the problem. Also, it's no difference if I am trying a song/album/artist which is accessed via Tidal or Qobuz, or stored localy.
Also, what's interesting: The song which I have pressed to play via "Roon Radio" is shown as "last played" at the tab "last activities". I attached you two screens, sorry for the bad choice of music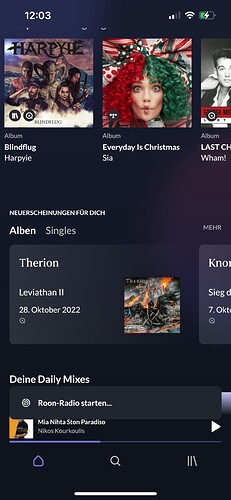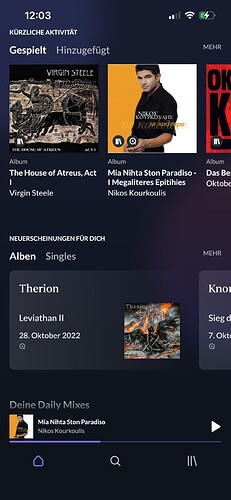 My question: Is it a known bug? Or am I alone with this problem?
It's absolutely not an important topic or matter, as basic funtions like playback etc. work like a charm. I just wanted to point out this issue and ask if somebody experienced this problem and to ask if it is known.

All the best & greetings from Vienna
Lukas