Roon Core Machine
ROCK, NUC8i7BEH, Crucial 8GB Single DDR4 2400 MT/S, Transcend 128GB Nvme PCIe Gen3 X4 MTE110S M.2 SSD Solid State Drive
Networking Gear & Setup Details
Ethernet to NUC: Google WiFi, TP-Link 8 Port Gigabit Switch, Synology DS920+
Connected Audio Devices
MacBook Pro, iPhone 13 mini, Chord Mojo2/Poly, Chromecast Audio
Number of Tracks in Library
43,000
Description of Issue
I have the Chord Mojo2 and the Roon-ready Chord Poly. The pair has worked fine with Roon, but using it the Roon Arc (which is a fantastic app) leaves me with intermittent dropouts that really disrupt my music listening experience.
I believe that I have isolated these dropouts to the Poly as I don't hear any dropouts when listening to Roon ARC directly from my iPhone.
I set my Poly to Hybrid Hotspot Mode where Network is "Poly Hotspot Mode" and Play Mode is "Everything Else":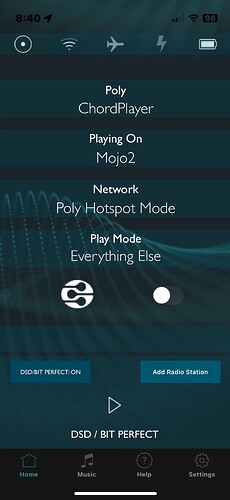 This is in contrast to using Roon while I am home near my core: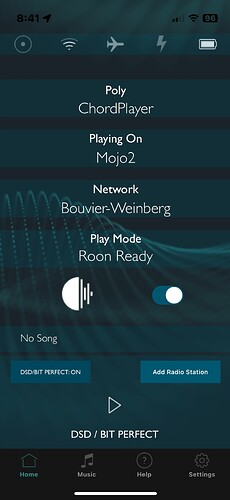 For Roon ARC (using the Hybrid Hotspot Mode), I further configure my iPhone 13 mini for AirPlay and then launch ARC.
Here is a clip where a dropout occurs (recorded from headphones…). Some dropouts are more repetitive and some are longer.
Is anyone else experiencing these types of dropouts when using Roon ARC with the Poly? Any solutions?
Note- I made a similar post on Head-Fi where I have more detailed configurations of my Poly.
David