Short description:
Roon Extension to start or stop playback on a specific zone at a specific time.
Description:
This extension turns your Roon system into an alarm clock. You select a zone, an action, a time, and a volume and when the time is right playback starts or stops. The main features (in short) are:
5 independent alarms (number can change), all with their own zone, action, day, time and volume
A Play or Stop action, allowing for a wake or sleep function
A week timer, allowing for an alarm somewhere in the upcoming week, including repeat function
A relative timer, allowing for an alarm somewhere in the upcoming 24 hours. The relative timer starts counting down immediately after set-up.
A fade in/fade out time, depending on the selected action
A fallback to a default music source (Roon Radio), in case there is nothing selected in advance
Screenshots:
Status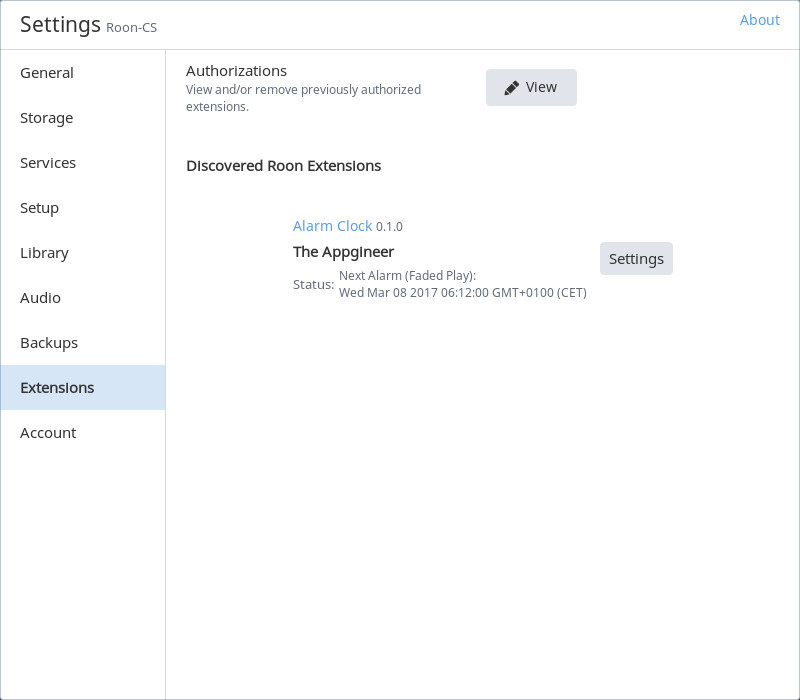 Settings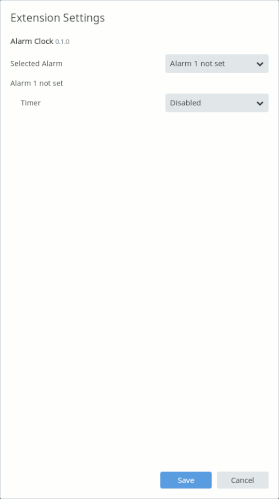 Status:
All listed features are implemented and the extension is not only in use by me but also by some members of the Roon community. Based on feedback, the biggest hurdle seems to be to get it installed. There is some discussion about this in this thread, which may be of help, but please start off by reading the information in this first post.
I use the Alarm Clock mainly for wake-up and use an Internet Radio stream as music source.
Limitations:
If you want something specific to play you have to select it manually (internet radio, queue, playlist), in this situation the Play button is 'pressed' when it's time to do so.
There is a fixed default source. If there is nothing to play when the alarm expires and the play history can be accessed via the Previous button, then a track from history is played. At the start of playback also the radio function is enabled to keep the music going after the initial track finished playing.
Known issues:
Availability:
The beta version of the extension is available on GitHub:
https://github.com/TheAppgineer/roon-extension-alarm-clock
The GitHub page has instructions on how to install the extension.
Important notes!!
Use this extension at your own risk!
Make regular backups of your Roon database.
This extension is in beta status, as is the API it depends on. This means that there can be small or even bigger issues!
Using this extension requires some tinkering (as the forum category suggests), I tried to make the installation instructions as clear as possible. If things are unclear, let me know.
GitHub will probably remain the distribution channel till the Roon team unfolds its plans for extension distribution and installation.
Start off by performing a basic test. Set up a non-critical alarm to start or stop playback and see if it works for you.
If you use it for wake up, use your phone or another alarm clock as a backup. Get confidence in the correct operation of the extension.
Keep an eye on the availability of the extension in the Settings->Extensions screen of Roon. I noticed that I had to restart the extension after a Roon Core update!
I would like to hear from you
User feedback will be valuable to bring this extension and the Roon API to the next level. I'm available for support or feature requests!