Hi @Bluebeat,
Can you provide some details on this device? Please include the resolution, GPU, and screen scaling settings and we'll take a look.
Thanks!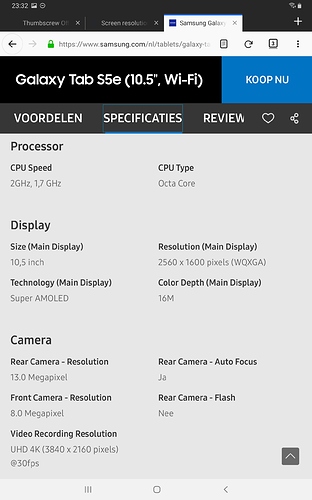 Hi @dylan,
Will this do? I'm not sure what you mean with screen scaling settings. The tablet always worked fine, no issues until the update of today.
More information here
Hi @Bluebeat,
We've also enabled diagnostics on your account so our team can take a closer look. Can you try connecting your Tab to the Core machine and let us know once you've done so? The diagnostics report will upload once you've done this.
Thanks!
Hi @dylan
Font size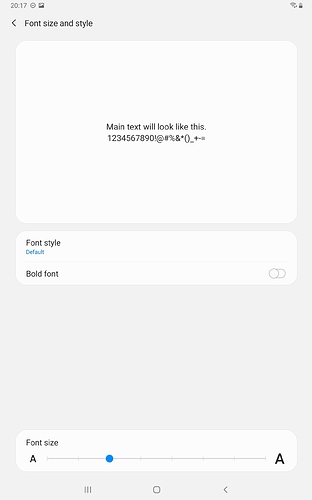 Just now 20.20h local time I've made a connection with the Core.
Hey @Bluebeat — Thanks for the details. The diagnostics report has come in and is with the team for analysis. I'll be sure to reach out as soon as we have more details.
Thanks!
Thanks @dylan
I hope this is sorted out quickly, as well as the pdf issue that @hans_valeton has pointed out.
Have a nice weekend!
Cheers,
Marc
In maximized or full screen mode, which are still the only two possibilities to run Roon due to this error, the navigation bar is pushed out of the screen. The swipe from the bottom of the screen more often than not interferes with the track bar, causing skipped parts of tracks, quite a nuisance. At least it invokes strong language, which is not always appreciated within the household.
Please fix this. Thanks!
Marc
@dylan
I got the navigation bar back adjusting the zoom setting on the S5e and bringing it down to the lowest possible (i.e. one step down from before, which was default as far as I know). Font size is default. For now it seems OK, looks fine.
Thanks.
Marc
Just to make sure there's no misunderstanding, I still would like to see this changed. Workarounds shouldn't be necessary with a tablet this size, I think.
Cheers,
Marc
Thanks for the details here, @Bluebeat. I've passed this along to the team for their ongoing investigation.
Hello @Bluebeat,
I wanted to reach out and let you know that we released Roon 1.7 Build 571, which includes some improvements that we believe should help here. Please give the update a try and let us know if it helps!
You can read the full release notes here:
Thanks,
Roon Support
Thanks for the heads up and the adjustment. Appreciate it.
Keep up the good work!
Cheers,
Marc
This topic was automatically closed 36 hours after the last reply. New replies are no longer allowed.