What internal HD looking for 8TB would be reccomended for NucleusPlus for optimum performance?
8tb ssd is probably your best option. Expensive but silent
Moved the post to the #roon:nucleus area too
Thanks
Don't know what to do, maybe you could shed some light, I updated today to 1148 never ever had a problem updating. After the update my Nucleus plus will not recognize anything in the USB input. I always had an 8TB HD in there never malfunctioned as I was using the HD, inputted into ROON storage. After updating I can't get the core to recognize the HD. I have confirmed the HD is working and my library is in tact, my network will not recognize it as well. It was a mapped network drive until this. Weird any thoughts?
Moving this to #support:nucleus-support for you, but seems this is a known issue others are having too re USB drives not being seen
I'm moving this query back to the #roon:nucleus category - @Robert_Zinn already has a support request open on his update issue…
Have you figured out why HD is not recognized by Nucleus?
I'm not a member of Roon Labs, so I have no idea. However, I see there are a number of reports of some ROCK and Nucleus systems no longer recognising USB-attached devices as a result of the new version of Roon OS, so I would expect that this is being investigated.
if you plug in and let me know, i can check
It has now become a "known issue" in support. A lot of users experiencing same issue. I'm assuming it needs to be taken care of in another update. My issue is HD attached to NucleusPlus not being recognized as a number of others are experiencing
Have you tried @Wes's recommendation of disconnecting/reconnecting the USB drive and seeing if the Nucleus recognizes it? If this does not work, then try disconnecting the USB drive, rebooting your Nucleus, and then reconnect the USB drive.
Have done it all, more than once. This started right after 1148 update as with many other users. Roon has acknowledged this issue and is looking into it.
Ok, I found a few cases and the problem is that NTFS drives must be ejected properly from windows before they can be placed on Nucleus.
There may be a workaround for me to try, but it's a scary one.
Can you try this? You'll need to plug it into a Windows machine, and then eject the drive properly before attaching it to the Nucleus.
Been there done that
It has been connected to NucleusPlus since inception and worked fine until 1148 update
I think you are confusing Roon 1148 vs Roon OS 254.
Roon 1148 has nothing to do with NTFS.
Roon OS 254 changed to a much more stable NTFS driver, but it's pickier about improperly ejected drives (part of the stability effort). I had 2 people having similar issues plug the drive into Windows, run CHKDSK on Windows, and then eject the drive. When they plugged it into a Roon OS machine (1 was ROCK, 1 was Nucleus), it showed up.
I asked your N+ for logs, but I can't see the exact issue because the drive is disconnected. You are however having some SMB issues with your NAS (it seems to be unreachable from the Nucleus+).
I need you either connect the drive or wait until I have another report of a similar issue that isn't resolved by chkdsk/eject. Either solution works for me.
Until this drive shows up, or another user has this same issue
I did what another Roon tech suggested. Disconnecting it from NucleusPlus put it on my win10, mapped it and was going to connect from there. I will eject as you ask and put it back on NucleusPlus within the hour.
My NAS connection is seen in Roon storage which I have been using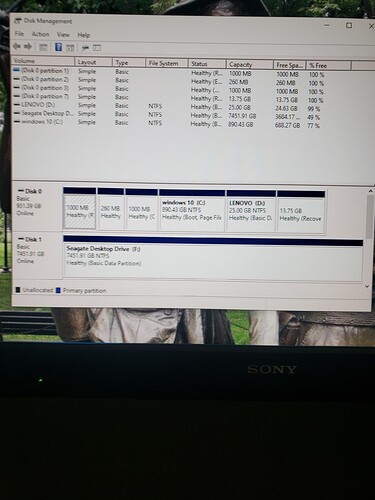 ok thanks
here is the error in Linux kernel log:
ntfs3: sdb2: volume is dirty and "force" flag is not set!

This tells me you have the same situation as the others. This was on your 8TB Seagate, I' assuming the same as the one from the screen above.
The other Roon tech did not have the information we have now. We gathered it from you and others reporting the situation.
Yes sir
Never had issue until last update
Will there be an update to correct this?
Yah, the old driver was known in some cases to corrupt the drive completely, so we updated the driver. The new driver is less tolerant of error situations.
We aren't fans of NTFS on Linux at all because of all this mess. exFAT is far less troublesome… but you have what you have and it's painful to convert.
Can I now stop pulling my hair out now, to which I have none anyway, and wait for your solution?
You can, but it'd still be nice to be 100% you don't have another issue too. I'm not 100% sure the fix (beyond "always eject") will be coming soon. There may not be a good NTFS solution here without going to the unsafe driver. Let me investigate.
Right now, you are using your Windows box as a SMB share?