Roon programmers have explicitly stated that it has been difficult to replicate the problem.
…and part of the testing process is the Early Release program. I had the problem and the latest Early Release B1197 has fixed the problem for me. I am not sure what you want here…a problem was found and Roon believes they have a fix and are having it tested by those in the Early Release program.
My only experience of this issue that was repeatable was with Dark Side of the Moon from Qobuz, which some others found to be the case too.
With the latest early release the problem seems to have been sorted.
Thank you, Roon folk.
Michael
And that's fine. You are not required to do it, it's a voluntary opportunity that many of us perform so that bugs are hopefully found before regular users get an update. I can't recall anyone coming across this gap issue and posting about it in the earlyrelease area of the forum.
But if you wanted to do it, the clue is in the link that was posted. If you managed to install Roon, you manage to join early access, because it is the exact same procedure if you care to read it. (Well, the same with the exception of Nucleus/ROCK, but that's manageable if you ever saved a file on a computer).
And that's why the Early Release program exists.
However, software is the most complex thing built by humans. There will always be bugs. All we can do is to find the bad ones early enough and fix the ones that didn't come up for anyone who was testing.
An annoying (not catastrophic) issue that affects an apparently small minority of people is not "a bad release". NASA can say "I've paid enough" when they commission the operating systems for the James Webb telescope. 12 euros a month can't buy it. It's just a fact of life
If I play the Qobuz "The Dark Side of the Moon" track "Speak To Me" and immediately jump to a point where there are 6 or more seconds left to play, the track plays gapless to the next track just as it should. If I jump to 5 seconds or less, there is a delay.
If I do this with a local copy, I can jump to the last 2 seconds and it plays gapless to the next track.
Again, using B1197…
Is this the 16/44.1 version? I cannot reproduce the issue with this. It is always gapless to the next track regardless of how close to the end I jump
There is a 24/196 (50th anniversary, 2023 remaster) version as well but all tracks are "unavailable" except #9
I used the 24/96 version…the 24/192 version is unavailable to me as well.
24/96 seems not available in Germany. Do you have the 16/44.1 and how is that? I am also on EA 1197 by the way.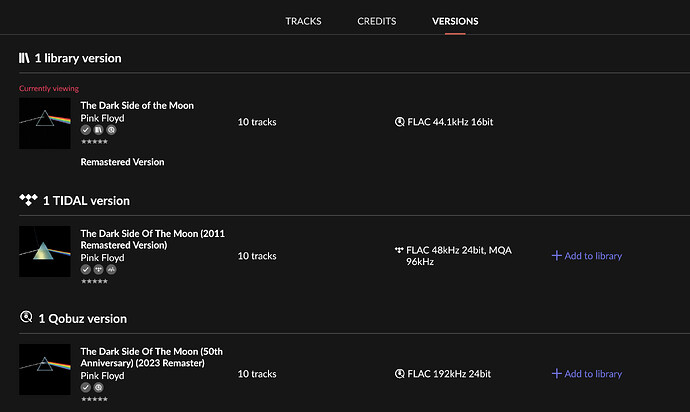 Exactly the wrong ones on each side for a comparison

Everything is fixed for me after version 1197
Experiencing the same with Hi Res files. Using Optical Rendu and NUC.
I saw in this months Absolute Sounds (in the KEF LSX II review) a mention of Roon dropouts. The reviewer stated it was with MQA tracks. Wasn't sure if it was the KEF app or Roon but ultimately blamed it on Roon.
Great reviewer. Figuring out your issues apparently isn't part of the job anymore, let's just blame whatever.
Dropouts are nearly always network issues. Was he talking about dropouts or about the gapless playback that is the topic of this thread?
Roon Core Machine
Mac
Networking Gear & Setup Details
Virgin
Connected Audio Devices
Naim ndx2
Number of Tracks in Library
Description of Issue
Sometimes there is gaping between tracks that Segway when simply playing an album through from Qobuz eg dark side or the moon. Never noticed this before.
This is currently a known issue for some people, a fix is in the works
Please Roon, get this fix into production soon, so that we can stop mentioning this album 10 times a day!!!

All part of the marketing scheme for the 50th anniversary edt. Just wait for the next reissue, and they'll milk your wallets all over again…
Lots of "Gap Problems" with lots of other albums here as well. Just saying…
It was intended "tongue in cheek". It is a difficult issue to pin down though, as it it is working just fine here. (Not just on DSOTM)