Hi Roon Support,
I am running the latest version of Roon (the full GUI app, not Roon Server) as a core/control/output on a 2014 iMac 5K running MacOS High Sierra 10.13.3 with an ethernet connection. My music library is stored on a Drobo 5N2 NAS with five 10 TB hard drives connected to the internet with one ethernet cable so as to avoid a link aggregation issue which I have read about in the Roon community forum. My Drobo is about 46% full with a combination of music, movies, and TV shows across different Drobo "shares" or directories.
My experience with Roon has been mixed at best. My main issue currently involves Roon "forgetting" my entire media library stored on my NAS. This necessitates a full re-scan and re-import of my music collection which can take days. (The music files in the MacOS finder are unaffected thankfully given the nature of how Roon works.) For instance, today Roon finished scanning and re-importing my ~250,000 track collection before dinner. After dinner, I returned to my computer to see Roon scanning yet again and only "seeing" ~1,500 tracks imported. What's up with that!? I'm now seeing this pop-up when I click the animated activity ring in the upper left: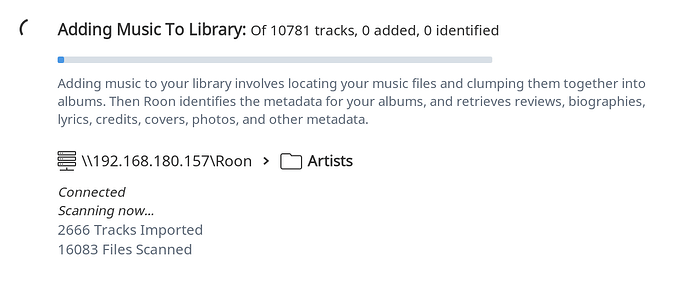 I read about the link aggregation problem in the following thread:
Initially, I set up my Drobo 5N2 to use network interface bonding (link aggregation) with two ethernet cables plugged into the rear of the NAS and connected to a Netgear ethernet switch. experienced this loss of tracks problem with this setup so I removed one ethernet cable from the Drobo and plugged directly into my wall ethernet outlet a few days ago. This seemed to fix the library loss problem until this evening.
Roon uses one "share" or directory on my Drobo. I have a second share dedicated to Roon backups and a third contains TV Shows and Movies used in a Plex setup.
Could my issue with the rescanning and loss of library files be related to an SMB or AFP connection problem? Roon connects to my Drobo using SMB followed by the Drobo's IP address. As a Mac user, I'm not exactly familiar with the pros, cons, dos, or don'ts of either and am sort of intimidated by it. As far as I know, Roon uses SMB and doesn't support AFP. To be honest, I'm not sure which I should be using while accessing my Drobo from the MacOS Finder.
Some other issues, which I imagine are related, have plagued my Roon experience. First, the Roon app (again. full GUI, not Server) seems to consistently crash at idle, during a library scan (which are frequent if not constant), and whenever I attempt to change the Automatic Scan Interval setting in the Storage settings. I have attempted to change my scan interval to prevent constant scanning and loss of speed when accessing my Drobo but upon changing the scan interval and clicking save, a pop-up with the animated Roon logo and "Saving" appears and eventually crashes the app.
The issue which I think is related to the crashing involves remotes (other installations of the full Roon GUI app, iOS apps) losing connection to the Roon core, either due to a crash of the Roon core app or for apparently no reason at all. Sometimes, the remote apps will recognize the Roon core after a few seconds/minutes while other times I need to restart the Roon remote apps and/or Roon core app.
I have paid for a year of Roon and am eager to purchase a lifetime subscription to the service. It's a brilliant system on paper and when it works properly. However, most my time spent with Roon gives me absolutely no reason to do so. If it isn't clear, navigating and troubleshooting these issues hasn't left me much time to listen to music.
Feel free to request any and all log information. I am still hopeful that my issues can be remediated.
Thank you for your assistance.
Regards,
Hugh