Hello everybody,
Since I have more free time than usual at the moment, I developed a new extension and Android app: it'roXs!
What is it about?
The main part is an Android app and adds some features to the Roon experience, which I missed since I am using Roon. Main features are (for now, there will be more):
Adds a media style notification for a Roon output to the status bar and lock screen
Shows current title meta data on the lock screen
Controls the volume of a Roon output with the volume hardware buttons of your device (if the volume of the selected output can be controlled through Roon, of course)
Use your smartwatch for basic control of a Roon output
Sleep Timer
The app is in an early state, but it is already available (as Early Access) in the Play Store:
Google Play Store: it'roXs!
There will be more features, I already have some in mind, but I think now is a good time to start letting you use and test the app

Second part is a Roon extension you have to install first. It provides a server the app needs to communicate with Roon. You can find this extension and install instructions on GitHub:
https://github.com/bsc101/roon-extension-itroxs
Screenshots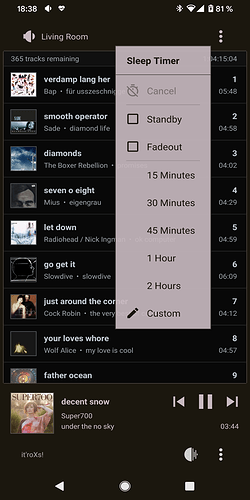 Hope you like it, any feedback is welocme. Have fun!