In this thread I like to introduce and support roo6D as part of the the rooExtend platform (https://rooExtend.com). It is the ultimate physical volume knob for Roon based on the 3Dconnexion SpaceMouse Wireless (SpaceMouse Wireless - Official 3Dconnexion UK store).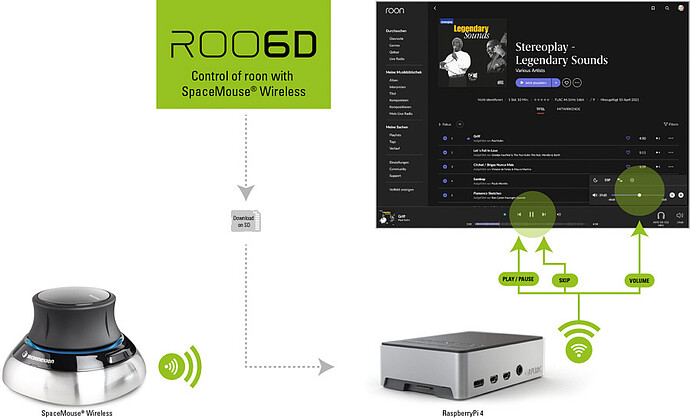 This high-end device looks great and feels substantial. With its 6 degrees of freedom (3 rotation axes, 3 translation axes) you can control any playback aspect of your system. All the important playback controls of Roon are operated by a small twist or push of the knob. The knob has a high-end feel with build-in rechargeable battery that lasts for a month. Due to its weight (approx. a pound, 450 grams) and rugged base, it sits firmly on any surface and does not slip.
A slight twist of the knob permits very sensitive control of the volume. Seeking forward and backward inside a track is easy by pushing the knob to the right and left. Pressing down on the knob pauses/unpauses the music. Two physical buttons on the left and right of the knob permit to skip to the next and previous track.
roo6D is fully configurable, so you can adapt if to your specific needs. For example, switch off you system by pushing forward on the knob and switch it on again by pressing down to unpause playback.
For easy setup, two videos are available that explain the setup procedure step by step. I recommend using a Raspberry Pi4 with a nice case (Flirc Raspberry Pi 4 Case), plug-in the included Universal receiver and a SD-Card flashed with the rooExtend image and you are done.
With this setup a single Pi4 supports both roo6D and rooDial for controlling seperate listening zones. Alternatively use several SpaceMouse Wireless devices and Raspberry Pi4s to drive each listening zone in your network.
roo6D is the result of a close cooperation between me and @Klaus_Engel sharing his knowledge of the SpaceMouse Wireless. Together we made a plug-and-play solution that can be installed by anybody within in a few minutes.
Using roo6D, no touch screen or clunky remote control distracts from the perfect listening experience. roo6D is the ultimate add-on for your high-end music system.