Hi everyone!
A new release is now rolling out for all platforms, with new features like Displays and Real Time Lyrics, as well as bug fixes and performance improvements.
Displays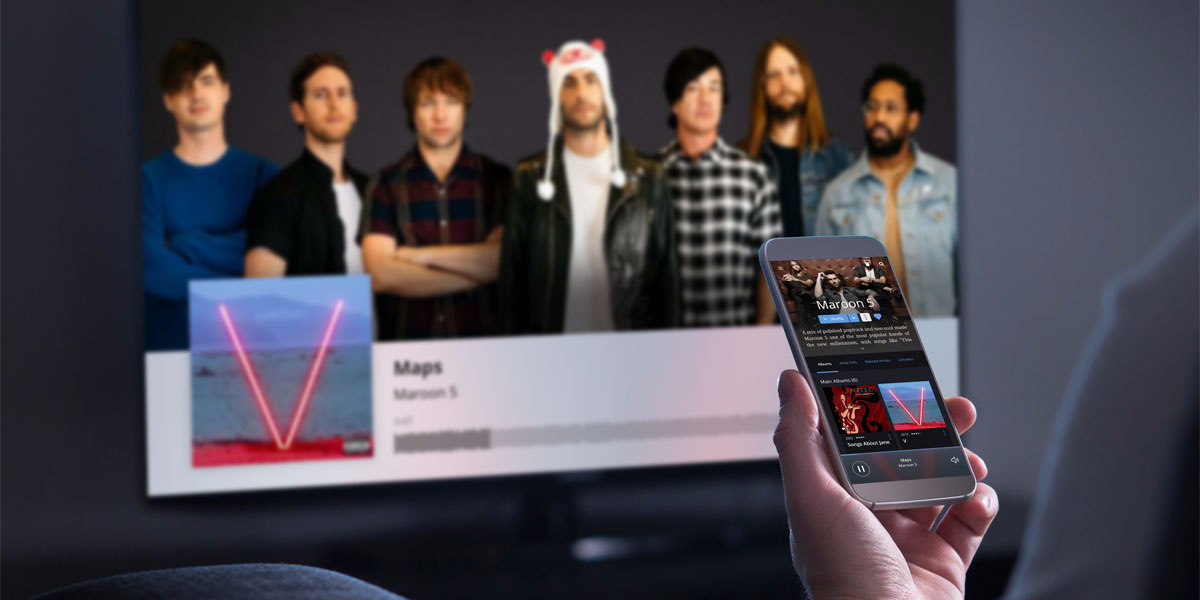 Since our Chromecast release a few months ago, we've been asked over and over whether we'd it would be possible for Chromecast devices to show cover art and artist photos for the music that's playing via other devices, like Roon Ready devices, Sonos, Airplay and more.
As of Build 354, that's now possible. Any Chromecast device on your network can now be used as a "Display" for any Roon zone.
It's also possible to use Chrome, Safari, and Firefox as a Display.
Full details are available in our Knowledge Base.
Real Time Lyrics
Tonight's release also debuts Real Time Lyrics.
Roon has lyrics for millions of tracks, and for many of these tracks we also have "timing" information, that let us scroll lyrics as you listen!
Note that not all tracks with lyrics will work with Real Time Lyrics. For content in your library, you'll see a small icon when browsing:

You'll also see a similar icon in the footer for Real Time Lyrics, even when the content is not in your library:
More information about Real Time Lyrics is available in our Knowledge Base.
Other Changes
Nucleus Stability Fixes
After much testing, we were able to identify and resolve a stability issue affecting certain Nucleus and Nucleus+ units that caused the Roon Core to drop connections, stop audio playback or spontaneously restart under some conditions. This should now be resolved.
Android stability fixes
Our Android app has been updated to follow the latest guidelines and use the latest Android SDK. It also no longer requests any permissions at installation time. For some Android devices, the SDK update improves performance or stability. We have also resolved some issues relating to opening PDF files on Android.
Improved Mobile Sharing
A recent Facebook API change broke our Sharing feature, which prompted some changes. Sharing on iOS and Android devices has been overhauled to allow for sharing not just on Facebook, but also via other apps installed on your device, including Instagram. On desktop versions of Roon, you will need to download the image and share it using a web browser.
Radio Ban Tag support
Starting in today's release, any track with the file tag ROONRADIOBAN set to values 1 or true or yes will no longer be selected by Radio.
Support for macOS 10.14 Mojave
macOS Mojave changed some details about how permissions work. If you would like to continue using media keys on your keyboard to control Roon, you'll need to click Grant Permissions on the Setup tab in Settings. Note that this step is now required even on older versions of macOS.
Support for iOS 12 and new iPhone Models
Roon now supports the iPhone XS Max, XS, and XR iPhone models, and should display properly on all of them.
Build 354 is rolling out now! Thanks everyone!
The Team At Roon Labs
Roon 1.5 (Build 354) Release Notes
---
Roon Build 354 is now rolling out for macOS, Windows, Windows (64 Bit), and Linux. Updated versions of Roon for Android and iOS have been submitted to their respective App Stores and will be available soon. There is no update for Roon Bridge at this time.
All platforms and apps should update automatically.
New Functionality for Build 354:
Chromecast Displays

Web Displays

Real Time Lyrics

Added support for Radio banning using ROONRADIOBAN tag

Support for macOS 10.14 Mojave

Support for iOS 12 and new iPhone Models
Bug Fixes for Build 354:
Android stability fixes
macOS accessibility permission for Mojave

Crash fixed
Show informational popup when requesting access to Media Keys

iPhone scaling changes for new iPhone models
Improved handling of devices that are Airplay 2 only
Fixed Shift-click selection on macOS
Facebook sharing works on mobile, instructions provided on desktop
Memory issues on Nucleus and Nucleus+ fixed
Fixed bug preventing identification if file has bootleg tag but no live tag
Fixed bug causing instability when zone has a bad network connection
Fixed bug causing memory leak if NTP request is lost
Fixed bug causing end of song to be cut off with Audeze Preset
Fixed remote crash if wifi disconnects
Android: fixed bug opening PDF file
Fixed shift-click selection on High Sierra
Upgraded iOS SDK