Hello,
I'm having a problem with Roon skipping through my tracks quickly (the successive tracks never play). I've scoured the Roon forums and have seen that other people have had similar problems over the years. I'm hoping these past situations will help you identify my specific problem.
Examples of similar problem:
Example 1
Example 2
Example 3
Here's my signal chain:
NUC8i7BEH with (16GB RAM, Samsung 970 EVO Plus 250GB M.2 SSD) running ROCK
Synology DS415+ NAS populated with 4x6TB WD Red drives
Sonore ultraRendu (with Small Green Computer 7v LPS)
Matrix X-SPDIF 2 USB=to-I2S converter (with Uptone UltraCap LPS-1.2 LPS)
PS Audio DirectStream DAC
NAIM 152 XS preamp
NAIM NAP 250-2 power amp
Wilson Duette speakers
Roon Version 1.7 (build 511)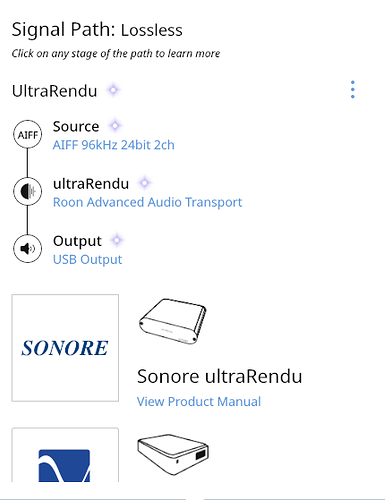 Here's my network setup:
Hitron E31N2V1 cable modem (internet)
TP-Link Archer C9 WiFi/Ethernet router
Netgear 8-port Gigabit Ethernet switch GS308v2 (not a smart hub)
Everything in the network is hard-wired via Cat6A ethernet cables.
Here's a bit more detail about my situation: I'm listening to my system, everything is working normally. I can change music tracks with no problem. Out of the blue I change tracks either by choosing another track while listening to the previous track or by stopping what I'm listening to and then choosing another track, and the music stops playing and the skipping problem begins. Once the problem starts I've tried restarting the Roon Core but that doesn't help. The only way I can fix things is to turn off the power supplies feeding the ultraRendu and Matrix, shut down the NUC, and sometimes shut down the NAS. When I reboot everything Roon will work ok for a while and then I'll switch to a new track and the problem will reappear. The problem, while intermittent, seems to be happening more often than it was a few weeks ago.
I've noticed when I'm playing a long playlist in Roon the problem doesn't happen. It's only triggered when I switch tracks manually.
Before I switched to the Matrix, I used the Sonore ultraDigital USB-to-I2S converter in my system and experienced the same track-skipping through files problem.
This problem doesn't occur in my other Roon zones. And it's not dependent on bit depth or sampling rates. It can happen when I switch from one Redbook track to another. I don't use any DSP. In an effort to resolve the problem, I set static IP addresses for the NUC core, the NAS, and the ultraRendu, but it hasn't had any impact on the behavior.
Please help.
Thanks.