We put every release through extensive testing, by our internal QA and by our tireless alpha testers and moderators. Unfortunately, a bug does occasionally make it out the door, especially with a release as complex as yesterday's.
We have identified a bug in the initial 1.3 release (Build 193) related to Linux devices using internal storage.
The fix is in place and has now been released as Build 194. While we don't anticipate any long-lasting effects, there will be some some minor inconvenience for certain configurations.
Who's Affected?
Let me start by explaining who is NOT affected:
If you never ran Build 193 (meaning you upgraded your Core from 1.2 to Build 194) this issue does not apply to you
If you are running your Core on Mac OS or Windows, this issues does not apply to you
If you are running a Linux Core but use USB storage or network shares (like a NAS) this issue does not apply to you
You can confirm the version your running by visiting Settings > About
This bug only applies to you if you meet these 3 conditions:
You are running a Linux Core
You are using non-removable (internal) storage for some or all of your local music
Your Core upgraded from 1.2 to 1.3 (Build 193)
If you meet these three conditions, please read on.
What's Going On
Because Roon's storage infrastructure has been overhauled for 1.3, storage paths needed to be converted over to the new format. This worked in some cases, but not all, and unfortunately this is due to a bug.
We have now resolved this issue, but the fix will cause the storage configurations mentioned above to become unavailable. We apologize for the inconvenience.

How Do I Fix This?
Now that our next build is live, you should install the update. Once you're running Build 194, people with aforementioned configuration will end up with their storage devices listed in Settings listed as drivenotready or directorynotready.
If you see this message, all you need to do is click Edit for the storage device, like this: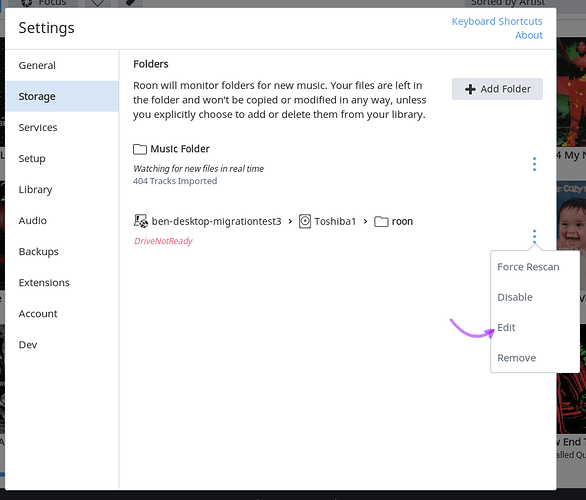 Then browse to the correct folder for your music:

This should be the same folder you had previously watched in Roon.
Repeat this for each folder you've added in Roon, and you're all set. Sorry for the inconvenience!