Hi Kevin,
You are not running the latest build by Crieke. Should look like this: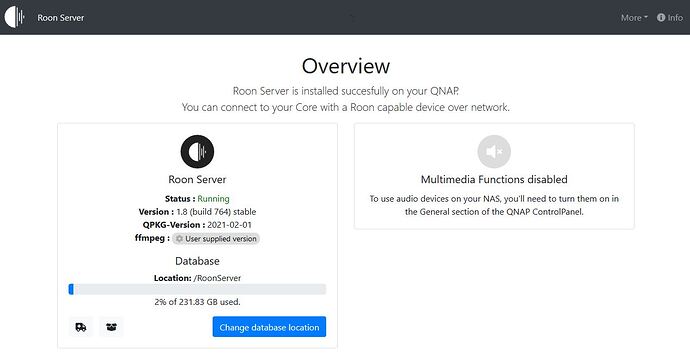 Please download and install the latest QPKG file, see above : Roon Server on QNAP QTS 4.5.1 Situation - #21 by crieke . And then set /copy ffmpeg.
Thanks @Kevin_Gordon ,
as Pascal_Simons already pointed out, You need to install the new qpkg version, which is not yet available in the App Store and therefore must currently be installed manually.
To do that, download the qpkg file from the link in my post and click the "Install Manually" button in the QNAP App Center.
This graphic illustrates the process of a manual installation briefly: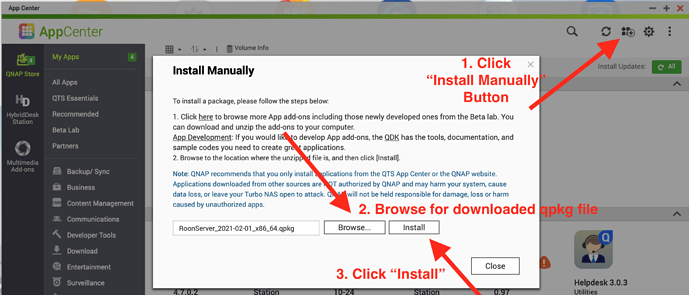 Thanks for this. Okay, I got the package installed and now have the same screen as you do. But then I get this message. There is the correct ffmpeg file in the music folder for sure. I'm not quite sure why it doesn't recognize that.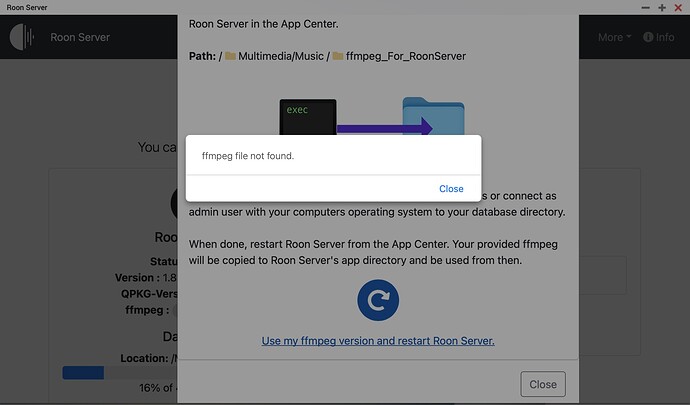 Hi Kevin,
Before checking the ffmpeg issue, I noticed your database location is set /multimedia/music. I sounds like this is your music directory. If that's the case, I'd recommend using a dedicated folder for Roon's database which is outside your music directory.
In regards to the "ffmpeg file not not found", can you check: the following:
Please make sure you have downloaded the correct version of ffmpeg (static build for amd64)
Has the downloaded tar.xz been extracted correctly? (on Mac a doubleclick will extract it correctly without the need for additional tools, on Windows systems I know of Winrar which can decompress the file properly).
In the folder of the extracted files, you'll need to copy "ffmpeg" inside the folder ffmpeg_For_RoonServer
Extracting ffmpeg using 7Zip
Download 7Zip & Install
Download ffmpeg as per @crieke video
Create a folder & name it "ffmpeg" on your Laptop/PC
Copy "ffmpeg-git-amd64-static.tar.xz" into folder (3)
Right Click File & choose "Extract Here"
You will see this file "ffmpeg-git-amd64-static.tar"
Right Click File & choose "Extract Here"
A Folder will be created called "ffmpeg-git-20210127-amd64-static"
Open folder (8) & copy the "ffmepeg" to "ffmpeg_For_RoonServer"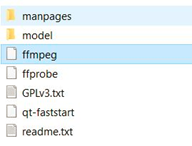 Hope this helps.
This worked in getting Roon to play through my Naim Muso's Gen1 again on Airplay
Thanks dude, really appreciated
Hello
I have installed the latest version from the Appstore. Does this version create the folder ffmpeg_For_RoonServer or do I need to create this folder. I have Roon installed in its own folder but I can't see the ffmpeg folder. My Roon folder looks like this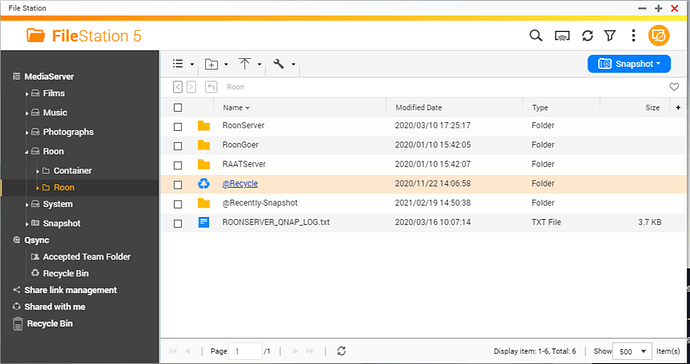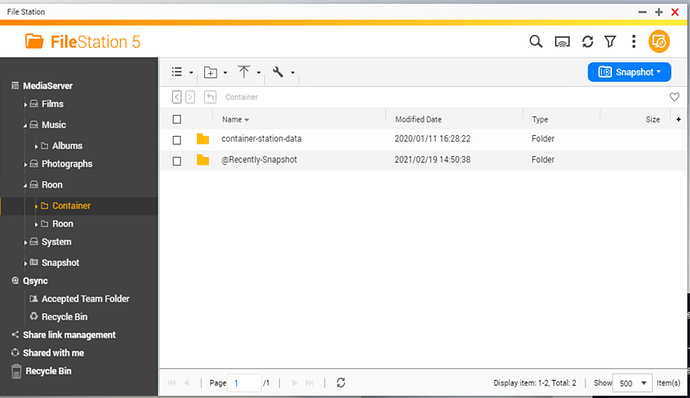 No the appstore one is not up to date…download from the link provided further up in the devs post.
Simon, I think @crieke has removed the link above to the modified version and the one in the QNAP store is the modified QPKG – Version: 21-02-01.
The new QPKG will create the folder for you but you need to follow the video to allow it to be created. It's not just a matter of installing the QPKG just follow the instructions and you should get there.
Hello Scotav
Thanks for your help with this. Yes, I have now got everything working. I only have one question though. The ffmpeg_For_RoonServer folder seems to have disappeared so I am not sure why it's still working. It seems a little strange to me.
Hi Stephen, good to hear you got things working.
Chris has confirmed that the "ffmpeg_For_RoonServer" folder is only created to allow you to add the ffmpeg file, it's then imported into the App and the "ffmpeg_For_RoonServer" folder is removed as it's no longer required.
Hi Scotav
Thanks for the clarification. I wonder what will happen at the next release. Will we have to perform the same procedure again. Not a problem now we know the process.
No problem. I don't think you'll need to do this with any future updates but you never know

Sorry for not keeping up here - is this now solved using regular QNAP firmware etc or should we still download a version of the static one? My ffmpeg is 3.3.6 System Version. Not sure if I should be manually updating but having some real performance issues (dropping connections) again and now everything hard wired I have a lot fewer things to test…
I updated my Ffmpeg app when I finally found it… It had to be there as I kept getting reminder emails. Anyway, AAC still works perfectly.
Thank you - this was incredibly helpful and resolved my problem too!
Good to hear Gavin, glad it helped.