In this thread I would like to introduce and support rooUPnP, an inexpensive and handy solution to use UPNP/DLNA streamers with Roon.
I would be happy to answer here all questions from interested parties and all rooUPnP users.
rooUPnP is my second Roon Extension and part of the rooExtend platform (https://rooExtend.com) that I will gradually expand with further Roon extensions. The aim of rooExtend is to make useful Roon extensions easily accessible to Roon users without in-depth IT knowledge.
rooUPnP supports Roon cores on all platforms (Windows, MacOS, Linux, RoonOS), also Roon 1.8.
The rooUPnP Extension itself runs on a RaspberryPi 4, which is used to transport the FLAC output of Roon to your UPnP streamers. Running high sample rates, the audio in- and output produces a lot of traffic. So rooUPnP can be operated with Ethernet only not with WiFi.
If you like you can also try Pi Model B, Pi 2 or Pi 3. I got some reports that it works but there will be no guarantee because all these devices have a bottleneck with their Ethernet controller.
Some elder streamers may not be ready for 24Bit FLAC. In order to still be able to use them with Roon, rooUPnP can transcode 24Bit FLAC output from Roon to different audio formats. These formats can be individually selected for each streamer in your home.
You also can adjust the maximum sample rate individually for each of your UPnP streamers. Sample rate conversion will always be done by Roon with its high-quality DSP routines.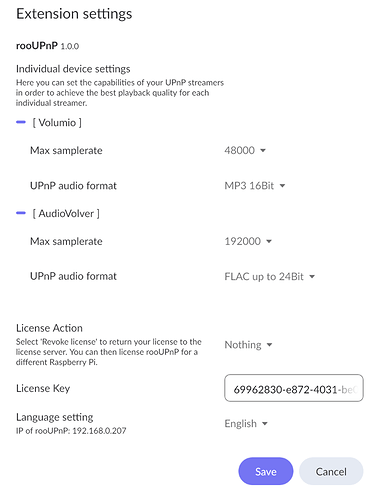 The software for the RaspberryPi 4 can simply be downloaded and copied to a SD-card. After this the RaspberryPi 4 is ready for use. You only must connect the RaspberryPi 4 to your Ethernet. All settings regarding the individual setup of your UPnP streamers can be done in Roon.
So that the solution can be used quickly and easily by laypeople, three videos are available that explain the procedure step by step.
A small license fee is payable for the rooUPnP Extension. I offer lifetime license for $35. Without licensing, your UPnP devices will be discovered so you can see if it will work. Audio playback will not be possible without license.
I wish everyone a lot of fun using your UPnP streamers with Roon.